Ryan Leng Takes The Lead Into Day 2 of Event #4: €1,650 No-Limit Hold'em 6-Handed

Level 12 : 1,000-2,000, 300 ante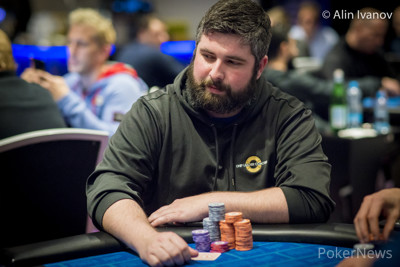 Day 1 of Event #4: €1,650 No-Limit Hold'em 6-Handed is in the books after twelve 40-minute long levels and 70 players remain from the 237 that started today. The registration and reentry period is open until the start of Day 2 at 2 p.m. local time tomorrow so more players could be joining the field tomorrow.
Bagging the chip lead was Ryan Leng (239,500), he already has 24 cashes in WSOP events and one WSOP Circuit ring and is now looking to win his first bracelet. Second in the chip counts is Dmitrii Deviatov (232,700) and third is Vincent Moscati with 214,900.
Other big stacks include Walter Treccarichi (211,600), Jan Subik (209,300), Bernard Larabi (209,200) and Michael Sklenicka (191,500). Also, still in are Martin Kabrhel, Sander van Wesemael, Sergio Fernandez, Erik Cajelais, Phil Hellmuth, Anthony Zinno, Ryan Hughes, Kristen Bicknell, Kenny Hallaert and Chris Ferguson.
Unfortunately, not everyone could make it through the day, new bracelet winners Oleksandr Shcherbak and Andreas Klatt won't be adding another bracelet to their collection yet. John Racener, Alex Foxen, Mike Leah, Kevin MacPhee are some of the players that have fallen at the hurdle.
Play resumes Friday at 2 p.m. local time so make sure you're following all updates here at PokerNews.
Day 2 Seat Draw
| Table | Seat | Player | Nationality | Chipcount | Big Blinds |
| --- | --- | --- | --- | --- | --- |
| 119 | 2 | Maksym Shulga | Ukraine | 50,000 | 21 |
| 119 | 4 | Jaroslav Peter | Czech Republic | 49,400 | 21 |
| 119 | 5 | Andrej Desset | Slovakia | 61,200 | 26 |
| 119 | 6 | Martin Kabrhel | Czech Republic | 37,900 | 16 |
| | | | | | |
| 125 | 1 | Phil Hellmuth | United States | 56,800 | 24 |
| 125 | 3 | Thomas Pettersson | Sweden | 96,200 | 40 |
| 125 | 4 | Chun Ho Law | United Kingdom | 77,600 | 32 |
| 125 | 5 | Andriy Lyubovetskiy | Ukraine | 135,900 | 57 |
| | | | | | |
| 126 | 1 | Lisiy Serghei | Russian Federation | 151,500 | 63 |
| 126 | 2 | Sander van Wesemael | Netherlands | 158,800 | 66 |
| 126 | 4 | Viktor Katzenberger | Hungary | 81,400 | 34 |
| 126 | 6 | Petr Šetka | Czech Republic | 134,700 | 56 |
| | | | | | |
| 131 | 1 | Petr Targa | Czech Republic | 73,200 | 31 |
| 131 | 2 | Ran Azor | Israel | 124,800 | 52 |
| 131 | 3 | Edward Ochana | United States | 106,600 | 44 |
| 131 | 5 | Dmitrii Deviatov | Russian Federation | 232,700 | 97 |
| | | | | | |
| 132 | 2 | Aleksandar Tomović | Serbia | 25,200 | 11 |
| 132 | 3 | Ismael Bojang | Germany | 24,200 | 10 |
| 132 | 4 | Jacques Misonne | Belgium | 17,300 | 7 |
| 132 | 5 | Sebastiani Luca | Italy | 65,900 | 27 |
| 132 | 6 | Ognjen Šekularac | Serbia | 49,000 | 20 |
| | | | | | |
| 137 | 1 | Kristen Bicknell | Canada | 64,500 | 27 |
| 137 | 2 | Velibor Jakovljevič | Montenegro | 86,900 | 36 |
| 137 | 3 | Reynir Brynjólfsson | Iceland | 21,500 | 9 |
| 137 | 4 | Liran Twito | Israel | 164,100 | 68 |
| 137 | 6 | Aaron Duczak | Canada | 121,500 | 51 |
| | | | | | |
| 138 | 1 | Bernard Larabi | Hungary | 209,200 | 87 |
| 138 | 3 | Sumit Sapra | India | 24,700 | 10 |
| 138 | 4 | Anthony Zinno | United States | 90,700 | 38 |
| 138 | 5 | Robert Auer | Austria | 41,900 | 17 |
| 138 | 6 | Patrik Ciklamíni | Slovakia | 86,900 | 36 |
| | | | | | |
| 143 | 1 | Luigi Alterio | Italy | 149,200 | 62 |
| 143 | 2 | Luis Andre Rodrigues Dono | Portugal | 125,100 | 52 |
| 143 | 3 | Krasimir Yankov | Bulgaria | 40,600 | 17 |
| 143 | 4 | Walter Treccarichi | Italy | 211,600 | 88 |
| 143 | 5 | Razvan-Andrei Dumea | Romania | 158,600 | 66 |
| | | | | | |
| 144 | 1 | Mario Perati | Italy | 138,000 | 58 |
| 144 | 2 | Kulcsár Gergely | Hungary | 81,100 | 34 |
| 144 | 4 | Gil Thierry | Belgium | 75,500 | 31 |
| 144 | 5 | Vincent Moscati | United States | 214,900 | 90 |
| 144 | 6 | Frederic Schwarzer | Germany | 16,200 | 7 |
| | | | | | |
| 149 | 1 | Sidney Farber | United States | 132,200 | 55 |
| 149 | 2 | Iurie Cudrinschi | Ukraine | 143,800 | 60 |
| 149 | 3 | Ryan Hughes | United States | 71,700 | 30 |
| 149 | 4 | Aneris Adomkevicius | Lithuania | 154,800 | 65 |
| 149 | 5 | Sergio Fernandez | Spain | 151,000 | 63 |
| | | | | | |
| 150 | 1 | Thorsten Schuler | Germany | 123,300 | 51 |
| 150 | 2 | Kenny Hallaert | United Kingdom | 18,400 | 8 |
| 150 | 3 | Ioli Alexandr | United States | 178,100 | 74 |
| 150 | 4 | Michael Sklenička | Czech Republic | 191,500 | 80 |
| 150 | 5 | Bertrand Grospellier | United Kingdom | 34,200 | 14 |
| | | | | | |
| 155 | 2 | Anatolii Zyrin | Russian Federation | 99,100 | 41 |
| 155 | 3 | Viacheslav Goryachev | Russian Federation | 44,200 | 18 |
| 155 | 4 | Theodore Mc Quilkin | France | 184,600 | 77 |
| 155 | 5 | Jan Šubík | Czech Republic | 209,300 | 87 |
| 155 | 6 | Viliyan Petleshkov | Bulgaria | 45,900 | 19 |
| | | | | | |
| 156 | 2 | Vahid Amirzahiri | United Kingdom | 43,200 | 18 |
| 156 | 3 | Tony Lefort | France | 127,000 | 53 |
| 156 | 4 | Jorn Eriksrub | Norway | 36,900 | 15 |
| 156 | 5 | Milan Šimko | Czech Republic | 61,500 | 26 |
| 156 | 6 | Pascal Pflock | Germany | 70,000 | 29 |
| | | | | | |
| 161 | 1 | Jan Bednář | Czech Republic | 114,300 | 48 |
| 161 | 3 | Erik Cajelais | Canada | 115,300 | 48 |
| 161 | 4 | Stoyan Obreshkov | Bulgaria | 133,600 | 56 |
| 161 | 5 | Micky Blasi | Malta | 106,400 | 44 |
| 161 | 6 | Chris Ferguson | United States | 136,100 | 57 |
| | | | | | |
| 162 | 1 | Ryan Leng | United States | 239,400 | 100 |
| 162 | 2 | Andriy Palyuga | Czech Republic | 79,500 | 33 |
| 162 | 3 | Brandon Cantu | United States | 33,200 | 14 |
| 162 | 4 | Barny Boatman | United Kingdom | 87,400 | 36 |