Two Hands Crush Gruissem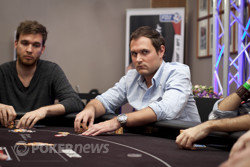 On back-to-back hands before the break, Philipp Gruissem's stack has been decimated down to just 25,000. The first he lost to David Benefield, and the second he lost to Tobias Reinkemeier. Here's what happened.
On the first hand, Benefield was all in preflop for 182,000 with the


against Gruissem's


. The board ran out





to give Benefield the double up.
Then, Gruissem was involved in a three-way battle with Fabian Quoss and Reinkemeier on the



flop. Gruissem was first and checked. That check was followed by a check from Quoss, and then Reinkemeier fired 54,000. Gruissem called, and Quoss folded.
The turn was the

, and Gruissem checked. Reinkemeier bet larger this time and wagered 78,000. Gruissem stuck right there with him and made the call to see the river.
The

completed the board, and Gruissem checked. Reinkemeier moved all in for his last 225,000, and Gruissem called after letting out a big sigh and looking back at his cards one last time.
Reinkemeier turned over the


for a flopped set of sixes. Gruissem showed the


for a flopped set of threes, but it was a losing set. He shipped over the chips to Reinkemeier and was left with just about 25,000. Reinkemeier saw his stack shoot up to 850,000.