Hairabedian Fights His Demon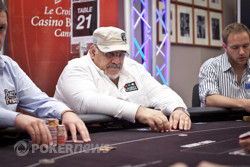 Sam Trickett raised to 16,000 from the cutoff after which Winfred Yu folded his button. Roger Hairabedian sat in the small blind, and he gave Trickett a little speech before three-betting.
Hairabedian brought up the Partouche Poker Main Event final table the two played back in 2011. Hairabedian finished fifth for €230,000, and Trickett ended up winning the cool million for first. Apparently Trickett had bluffed the Frenchman on numerous occasions, and he hadn't forgotten about it. Hairabedian finally put out a three-bet to 44,000.
Trickett smiled and after some back and forth chat he four-bet to 100,000.
"If you speak then I speak," Hairabedian said. He quickly counted out another 200,000 chips and five-bet to 246,000 chips. Trickett went into the tank, and Hairabedian started talking.
"I dream of you every night! All of France was laughing at me, because you fight me," Hairabedian said as he raised his fist to show what a battle it was back at that final table. After about a minute Trickett folded, and Hairabedian showed the

.
"I f***ing knew it!" Trickett yelled as he flipped up his


.
"If you go all in, I go to sleep," Hairabedian smiled as he stacked his new chips. Trickett still has one of the biggest stacks in the room, but Hairabedian isn't far out.