Event #7: €10,450 No-Limit Hold'em Main Event
Tage: 4
Event #7: €10,450 No-Limit Hold'em Main Event
Tag 4 beendet
Level 21 : 8,000-16,000, 2,000 ante
It was a quick day of play here in Cannes, France as the final 24 players returned to battle for a coveted spot among the final table of the World Series of Poker Europe Main Event. After a flurry of big pots and dramatic eliminations, the official final table is set with none other than twelve-time WSOP bracelet winner Phil Hellmuth leading the way.
After the final 24 players took their seats, the play began fast and furious and never relented as the day wore on. The players to bust before the final two-table redraw at 16 were able to earn a payday of €26,611. Those to see the exit included Joe Kuether, Vladislav Varlashin, two-time WSOP bracelet winner Andy Frankenberger, Vadzim Markushevski, [Removed:138], Joe McGown, Liv Boeree and Curt Kohlberg.
As the last woman standing in the field, Boeree came into play today focused and poised to make a deep run. However, the deck seemed to have it out for Boeree, as the during the second hand of play she ran


into Stephane Albertini's


for a solid chunk of her stack. While she was able to recover from that hit, she eventually saw her tournament life end at the hands of Joseph Cheong. Cheong opened with a raise and Boeree three-bet all in for 272,000. Cheong called with


only to find that he was behind Boeree's


. The flop and turn were safe for Boeree, as they brought




to the felt. The river, however, spelled disaster, as it was the

, which paired Cheong's ten and sealed the deal on Boeree's tournament.
Kohlberg was eliminated immediately after Boeree, and his elimination sent a shock wave throughout the room that prompted players from every table to stand up and watch the action. Kohlberg opened with a raise to 30,000 from under the gun and Hellmuth three-bet to 180,000. It folded back to Kohlberg and he wasted no time announcing that he was all in for roughly 900,000.
"What did he say? All in?" said Hellmuth. "I call!" Hellmuth shot out of his chair and tabled


.
Kohlberg showed


and was in dire need of some help. The flop brought Kohlberg hope, however, as it fell



, giving him an open-ended straight draw. Hellmuth took one look at the flop and stormed away from the table.
The

rolled off on the turn, giving Hellmuth a set but Kohlberg was still drawing live going to the river. Fifth street was paint, but unfortunately for Kohlberg it was the

, pairing him up and securing his elimination in 17th place.
The next two players to go took home a prize of €32,356 for their efforts. Max Silver, who finished 8th in this very event last year, fell at the hands of Cheong when he called all in with two pair against Cheong's made straight. David Benyamine was the next player to see elimination when he ran into the full house of Sergii Baranov.
Kyle Julius and Toby Lewis were the next two to go, and finished in 14th and 13th place respectively. Julius and Lewis took home a solid prize of €40,320. The 2005 WSOP Main Event runner up Steve Dannenman was the next to see his tournament come to an end. Dannemann rode the short stack for most of this tournament and finally moved all in from the button holding two nines. Cheong woke up with pocket jacks in the big blind and the jacks were able to hold, sending the always smiling Dannenmann home in 12th place.
Nicolas Cardyn and Scott Seiver were the next two to be eliminated, and the exit of Seiver prompted a full redraw for the unofficial final table of nine. Play for the day came close finishing when Timothy Adams moved all in and was dominated by Hellmuth. Fortunately for Adams, he was able to spike a ten on the river to double up.
The table then engaged in two rough hours of poker where many chips exchanged hands and and short stacks doubled up. Finally, Adams became our final table bubble boy by getting his entire stack in the middle with


against Christopher Brammer's


. Adams was unable to improve and he was forced to settle for a 9th place finish.
2012 WSOP Europe Final Table
| Seat | Player | Count |
| --- | --- | --- |
| 1 | Paul Tedeschi | 543,000 |
| 2 | Joseph Cheong | 1,966,000 |
| 3 | Stephane Albertini | 1,162,000 |
| 4 | Christopher Brammer | 851,000 |
| 5 | Jason Mercier | 652,000 |
| 6 | Sergii Baranov | 3,339,000 |
| 7 | Phil Hellmuth | 3,434,000 |
| 8 | Stephane Girault | 664,000 |
Play will resume on Thursday at 1:45 PM CET. Due to live television scheduling, the players will play until four players remain and then take a break until 9:45 PM where they will resume and play until a winner emerges. Be sure to stay tuned to PokerNews as we provide updates from the exciting conclusion to one of the most prestigious events of the year!
Spieler
Chips
Fortschritt

Phil Hellmuth

3,434,000

-486,000

Sergii Baranov

3,339,000

287,000

Joseph Cheong

1,966,000

-244,000

Stephane Albertini

1,162,000

277,000

Christopher Brammer

851,000

481,000

Stephane Girault

664,000

139,000

Jason Mercier

652,000

-78,000

Paul Tedeschi

543,000

-140,000
Level 23 : 12,000-24,000, 4,000 ante
We're headed out to the field to get the official chip counts. Stay tuned for those and a full recap of the day's action.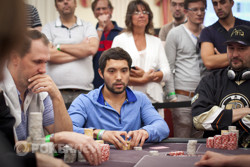 Christopher Brammer moved all in from the cutoff for 487,000 and Timothy Adams called off for a little less in the big blind.
Showdown
Adams:



Brammer:


"I folded ace-jack," Sergii Baranov said from the small blind. It wasn't good news for Adams, who was at risk and needed to improve. The



flop wasn't particularly exciting, and neither was the

turn. Adams needed either an ace or jack, of which there were only two left of each, in order to survive, but it was not meant to be as the

blanked.
With that, the 2012 WSOP Europe Main Event final table is set.
Jason Mercier raised to 48,000 from the cutoff and was called by Phil Hellmuth from the big blind.
The flop was



and both players checked to see the

hit the turn. Hellmuth led out for 75,000 and Mercier slowly and deliberately counted out a raise to 192,000.
Hellmuth shot out of his seat and looked down at the board.
"Alright, I call," Hellmuth said with fervor.
The

paired the board on the river and Hellmuth checked. Mercier moved 263,000 into the middle and Hellmuth quickly announced a call. Mercier showed


for top pair but was ultimately behind Hellmuth's


for trip sixes.
Spieler
Chips
Fortschritt

Phil Hellmuth

3,920,000

520,000

Jason Mercier

730,000

-421,000
In the second hand back from the break, Phil Hellmuth raised to 60,000 from the cutoff only to have Stephane Girault move all in from the button. The blinds got out of the way, and Hellmuth asked for a count. "I'm pretty sure I'm calling," he said. The 256K price sounded right and Hellmuth did make the call.
Showdown
Girault:


Hellmuth:


Girault woke up with the best possible hand at the right time and he secured a double when the board ran out





.
Level: 23
Blinds: 12,000/24,000
Ante: 4,000
Spieler
Chips
Fortschritt

Phil Hellmuth

3,650,000

-50,000

Sergii Baranov

3,052,000

52,000

Joseph Cheong

2,210,000

-30,000

Jason Mercier

1,151,000

101,000

Stephane Albertini

885,000

-125,000

Paul Tedeschi

683,000

-67,000

Timothy Adams

420,000

-30,000

Christopher Brammer

370,000

-15,000

Stephane Girault

305,000

-10,000
Level 22 : 10,000-20,000, 3,000 ante
Players are now on a 5-minute break. They will come back to play 30 minutes after that and then decided whether or not to take a dinner break.