Player Interview: Eugene Kotlyarevskiy
Level 18 : 5,000-10,000, 1,000 ante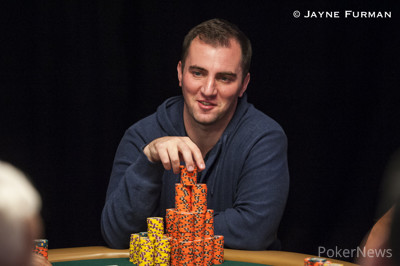 Eugene Kotlyarevskiy is sitting second in chips heading back from the second break of the day. The East Coast grinder started the day with 971,000 and now sports a healthy 2.4 million to play with.
He is already guaranteed a payout of just a few thousand less than his biggest cash to date, which he earned in last year's Main Event when he placed 278th for $36,708.
PokerNews spoke with Kotlyarevskiy to find out how play's been and to learn his strategy for the rest of the day.
Kotlyarevskiy: I won most of my chips from two big hands. The quads over quads hand and then a very friendly runout when I had ace-queen against aces. Then I've been playing small pots ever since to chip up.
PokerNews: Have you been able to get full value from being the chip leader at your table?
Kotlyarevskiy: My table is pretty solid. I think everybody left is a pretty confident player. Hopefully, I can use my stack. We'll see. I'm sort of waiting for the blinds to get bigger.
PokerNews: How would you rate the play today?
Kotlyarevskiy: Play today is significantly faster. That's about it. There were so many short stacks coming in that it just seems like there were a lot of people sticking it in. I mean, we lost about 400 people already today.
PokerNews: What's you plan for the rest of Day 4?
Kotlyarevskiy: Look, I have 200 big blinds, I don't want to do anything stupid. I'm going to keep it on cruise control for now and see what happens.