Hands #13-16: The John Hesp Show
Level 37 : 400,000-800,000, 100,000 ante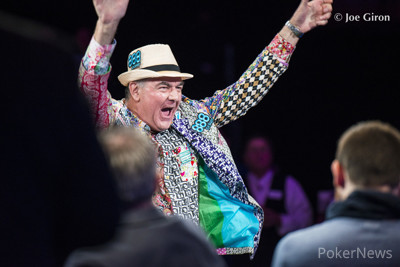 Hand #13: John Hesp raised to 1.8 million from early position and everyone tossed their cards to the muck. Hesp showed


as he raked in the pot.
Hand #14: Hesp opened to 2 million from under the gun and Dan Ott called from the big blind. The flop came



and Ott checked to Hesp who bet 2 million. Ott quickly folded and Hesp flashed the

to the table.
Hand #15: Jack Sinclair raised to 1.6 million from the hijack and Bryan Piccioli called on the button. Hesp also tagged along from the big blind and the flop came



. Hesp led out for 3 million and Sinclair called. Piccioli thought for a bit before folding and they were heads up to the

turn. Hesp bet 3 million again and Sinclair decided to toss his cards away. The table and crowd begged Hesp to show his cards but he elected not to this time.
Hand #16: Piccioli raised to 2 million from the cutoff and Scott Blumstein called from the big blind. The flop was



and Blumstein checked it over to Piccioli who checked behind. The

came on the turn and Blumstein led out for 3.1 million. Piccioli made the call and the

completed the board. Both players checked and Piccioli tabled


to scoop the pot.
Spieler
Chips
Fortschritt

John Hesp

107,600,000

11,800,000

Scott Blumstein

105,950,000

-5,500,000

Bryan Piccioli

34,500,000

3,100,000

Jack Sinclair

33,350,000

-5,000,000

Benjamin Pollak

31,175,000

-400,000

Dan Ott

16,975,000

-2,800,000

Damian Salas

16,175,000

-800,000

Antoine Saout

14,850,000

-400,000