Ari Engel Among Leaders at the End of Day 2 in Event #56: $5,000 No-Limit Hold'em
Level 20 : 5,000-10,000, 1,000 ante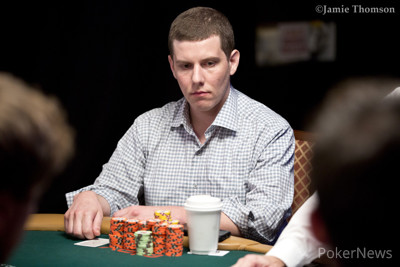 Day 2 of Event #56: $5,000 No-Limit Hold'em is in the books, and Canadian pro Ari Engel has bagged one of the top stacks heading into Day 3 on Canada Day tomorrow. He ended the day with 977,000 chips and hopes to earn Canada's second bracelet of the series on his country's 150th birthday.
Hungary's Marton Czuczor leads the remaining 32 players with 1,352,00 chips, worth 112 big blinds going into Day 3 when blinds start at 6,000/12,000 with a 2,000 ante. Behind him in second is Argentina's Norberto Korn with 1,098,000 chips, followed by Venezuela's Donis Agnelli (980,000) in third, Canada's Ari Engel (977,000) in fourth, and United States' Simon Lam rounding off the top five with 785,000. Interestingly enough, the top five stacks are represented by five different countries, showing what a diverse community the poker world has become.
The entire tournament brought forth a total of 623 entries, paying out 94 spots. The eventually winner will earn a whopping $618,285, but most importantly the coveted gold WSOP bracelet. A min-cash was worth $7,414, and the remaining 32 players are guaranteed to pocket $14,183 when they begin Day 3.
The day began with 250 players and dwindled down to just 32 to end the night. The bubble burst just after the dinner break, and it was Steve Karp who was responsible for bringing 94 players into the money. Jeff Hakim was the eventual bubble boy after losing a flop with ace-king, up against Karp's queens. A king hit the river, but it also completed a straight for Karp so he was eliminated in 95th place.
Jack Salter was one of the early chip leaders but gave up half of his stack after attempting to bluff Juha Helppi before the dinner break. Helppi tank-called after about five minutes and his straight was good to double up, making him one of the chip leaers. Ari Engel also built up a stack and stayed consistent throughout the day. Engel made a hero call, and followed that with winning a big pot with queens against Jonathan Concepcion's pocket tens. He clearly kept up with the momentum, bagging heaps at the end of the night.
The field today was stacked, so there's certainly a large list of notable players that made it through to Day 3 including Dietrich Fast (672,000), Juha Helppi (658,000), Damian Salas (481,000), Ravi Raghavan (467,000), Mike Watson(445,000), Matt Stout (389,000), Barny Boatman (361,000), Pierre Neuville (320,000), Matt Affleck (304,000), Aditya Agarwal (201,000), Andy Spears (197,000), and Darren Rabinowitz (174,000).
Final Table Payouts:
| Prize | Place (USD) |
| --- | --- |
| 1 | $618,285 |
| 2 | $382,122 |
| 3 | $264,306 |
| 4 | $185,794 |
| 5 | $132,767 |
| 6 | $96,472 |
| 7 | $71,300 |
| 8 | $53,615 |
| 9 | $41,031 |
Many big names made their way to Day 2, and a lot of them made the money but weren't able to go deep, including Ivan Luca (36th place - $14,183), Jack Salter (37th place - $12,147), Benjamin Heath (43rd place - $12,147), Matt Berkey (44th place - $12,147), Olivier Busquet (61st place - $9,466), Cate Hall (73rd place - $8,020), and Chris Hunichen (88th place - $7,626).
Only 94 players made the money, meaning a good chunk of the field hit the rail without cash in their pockets, including the likes of Jason Mercier, Ryan Laplante, Maria Ho, Federico Butteroni, Gerg Merson, Matt Salsberg, Paul Volpe, Jeff Gross, and Natasha Mercier.
Keep following along as PokerNews reports all of the action over the next two days on the way to crowning a winner in this event.
| Room | Table | Seat | Player | Country | Chip Count | Big Blinds |
| --- | --- | --- | --- | --- | --- | --- |
| Brasilia | 718 | 1 | Barny Boatman | United Kingdom | 361,000 | 30 |
| Brasilia | 718 | 2 | Huihan Wu | United States | 117,000 | 10 |
| Brasilia | 718 | 4 | [Removed:14] | United States | 561,000 | 47 |
| Brasilia | 718 | 5 | Mike Vanier | United States | 709,000 | 59 |
| Brasilia | 718 | 6 | Julian Stuer | Germany | 289,000 | 24 |
| Brasilia | 718 | 7 | Sergio Cabrera | Granada, ES | 303,000 | 25 |
| Brasilia | 718 | 8 | Matt Affleck | United States | 304,000 | 25 |
| Brasilia | 718 | 9 | Dietrich Fast | Germany | 672,000 | 56 |
| | | | | | | |
| Brasilia | 722 | 1 | Dong Zhao | China | 95,000 | 8 |
| Brasilia | 722 | 3 | Guy Pariente | France | 350,000 | 29 |
| Brasilia | 722 | 4 | Marton Czuczor | Hungary | 1,352,000 | 113 |
| Brasilia | 722 | 5 | Pascal Hartman | Germany | 361,000 | 30 |
| Brasilia | 722 | 6 | Ari Engel | United States | 977,000 | 81 |
| Brasilia | 722 | 7 | Andy Spears | United States | 197,000 | 16 |
| Brasilia | 722 | 8 | Damian Salas | Argentina | 486,000 | 41 |
| Brasilia | 722 | 9 | Mark Zullo | United States | 462,000 | 39 |
| | | | | | | |
| Brasilia | 726 | 2 | Simon Lam | United States | 785,000 | 65 |
| Brasilia | 726 | 3 | Pete Chen | Taiwan | 315,000 | 26 |
| Brasilia | 726 | 4 | Mike Sowers | United States | 652,000 | 54 |
| Brasilia | 726 | 5 | Thomas Boivin | Belgium | 651,000 | 54 |
| Brasilia | 726 | 6 | Mike Watson | Canada | 445,000 | 37 |
| Brasilia | 726 | 7 | Norberto Korn | Germany | 1,098,000 | 92 |
| Brasilia | 726 | 8 | James Hughes | United States | 108,000 | 9 |
| Brasilia | 726 | 9 | Pierre Neuville | Belgium | 320,000 | 27 |
| | | | | | | |
| Brasilia | 727 | 1 | Matt Stout | United States | 389,000 | 32 |
| Brasilia | 727 | 2 | Ravi Raghavan | United States | 467,000 | 39 |
| Brasilia | 727 | 3 | Carlos Chang | Taiwan | 126,000 | 11 |
| Brasilia | 727 | 4 | Aditya Agarwal | India | 201,000 | 17 |
| Brasilia | 727 | 5 | Donis Agnelli | Italy | 980,000 | 82 |
| Brasilia | 727 | 7 | Darren Rabinowitz | United States | 174,000 | 15 |
| Brasilia | 727 | 8 | Yaron Zeev Malki | Israel | 681,000 | 57 |
| Brasilia | 727 | 9 | Juha Helppi | Finland | 658,000 | 55 |