Anthony Zinno's Rolled Up Threes Finish as Third Best; David Bach Triples
Level 11 : 5,000-10,000, 1,000 ante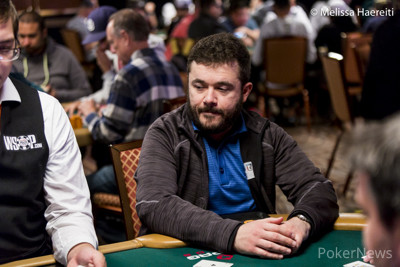 Zinno:


/



Painter:


/

- fold
Bach:


/



Grapenthien:


/

- fold
Belianin:


/


Anthony Zinno was the bring-in, Jameson Painter called, David Bach completed, Matt Grapenthien made it two bets, Belianin made it three bets, and Zinno made it four bets. Painter folded, Bach capped it at five bets, Grapenthien folded, Belianin called, and Zinno called.
Still with us? Good.
Belianin had the on-board lead on fourth street and bet his remaining 4,000. Zinno raised and Bach called all in for his remaining few thousand.
Zinno:


/



Bach:


/



Belianin:


/


Zinno led with rolled up threes while his two opponents were drawing thin. Here was the rest of the runout:
Zinno:


/




/


Bach:


/




/


Belianin:


/




/

Bach caught trip kings on fifth street to overtake Zinno in the hand, but Belianin had taken the lead with jacks full of queens. Bach, however, caught running sevens to make kings full of sevens to basically triple up. Belianin's lower full house was defeated and he was eliminated while Zinno's rolled up threes finished third-best. He was down to 37,000 and busted shortly thereafter.