Craig Varnell Tops Day 1 of the $3K Six-Pack
Level 10 : 500-1,000, 100 ante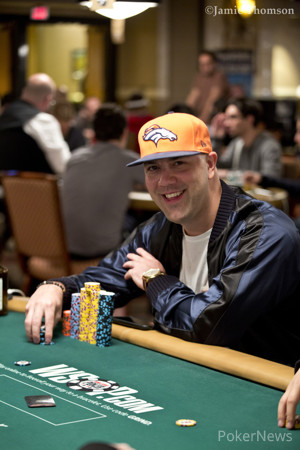 The first 10 levels of Event #27: $3,000 No-Limit Hold'em 6-Handed are complete and just 202 remain. A field of 959 poker enthusiasts gathered today, filtering into six-packs and filling tables across the Amazon room.
American pro Craig Varnell leads the pack with a healthy stack of 202,600. Varnell used a hand where he flopped a set and turned a full house against an opponent's top pair on the flop and an open-ended straight draw. Varnell stayed atop the counts the rest of the way and will carry the lead into Thursday's Day 2.
Joining Varnell at the top is Jeff Coddington, missing out on the chip lead by just two antes, bagging a stack of 202,400. Andy Spears (193,200), Jerry Payne (185,700), and John Bergman (185,500) round out the top five.
Among the notables surviving play were Mike Sowers (152,600), Steve Sung (139,800), Jeremy Ausmus (132,500), Vanessa Selbst (124,9000, Igor Kurganov (112,000), David Pham (61,900), Gaelle Baumann (61,900), and Mike Watson (59,200).
Only the top 144 spots will receive a slice of the $2,589,300 prize pool with a min-cash being worth $4,509. Of course, everyone's sights and focus will be on the top prize though, which carries a reward of $498,682 and the coveted and prestigious WSOP gold bracelet.
A few players no longer in contention after busting on Day 1 include Doug Polk, Eddy Sabat, Fabrice Soulier, Justin Bonomo, Cate Hall, Martin Jacobson, Greg Merson, Olivier Busquet, Jonathan Duhamel, David Peters, and Griffin Benger.
The remaining players will return Thursday afternoon at 12 p.m. inside the Miranda room to battle for another ten one-hour levels.
Day 2 Seat Draw
| Room | Table | Seat | Player | Country | Chip Count | Big Blinds |
| --- | --- | --- | --- | --- | --- | --- |
| Miranda | 600 | 1 | Linyang Song | Canada | 87,700 | 73 |
| Miranda | 600 | 2 | Martin Mathis | United States | 12,800 | 11 |
| Miranda | 600 | 4 | Benjamin Grise | United States | 64,200 | 54 |
| Miranda | 600 | 5 | Lucas Blanco | United Kingdom | 40,900 | 34 |
| Miranda | 600 | 6 | Mark Radoja | Canada | 31,000 | 26 |
| | | | | | | |
| Miranda | 601 | 1 | Jonathan Jaffe | United States | 130,700 | 109 |
| Miranda | 601 | 2 | Sam Grafton | United Kingdom | 83,700 | 70 |
| Miranda | 601 | 3 | Joshua Gibson | United States | 190,900 | 159 |
| Miranda | 601 | 4 | Diego Ventura | Peru | 55,500 | 46 |
| Miranda | 601 | 5 | Corey Zedo | United States | 32,800 | 27 |
| Miranda | 601 | 6 | Parmesh Raj | Canada | 136,800 | 114 |
| | | | | | | |
| Miranda | 602 | 1 | Jesse Vilchez | United States | 30,400 | 25 |
| Miranda | 602 | 3 | Levan Karamanishvili | Georgia | 84,500 | 70 |
| Miranda | 602 | 4 | Onur Unsal | United States | 91,000 | 76 |
| Miranda | 602 | 5 | Daniel Strelitz | United States | 126,300 | 105 |
| Miranda | 602 | 6 | Bradley Gordon | United States | 93,800 | 78 |
| | | | | | | |
| Miranda | 603 | 1 | Mikhail Rudoy | Russia | 117,400 | 98 |
| Miranda | 603 | 3 | Kitty Kuo | Taiwan | 70,200 | 59 |
| Miranda | 603 | 4 | Andrew Donen | United States | 107,900 | 90 |
| Miranda | 603 | 5 | Yang Wang | United States | 99,000 | 83 |
| Miranda | 603 | 6 | Pratyush Buddiga | United States | 52,800 | 44 |
| | | | | | | |
| Miranda | 604 | 1 | Jimmy Guerrero | France | 74,000 | 62 |
| Miranda | 604 | 2 | Javier Gomez | United States | 58,100 | 48 |
| Miranda | 604 | 3 | Aleks Dimitrov | Bulgaria | 95,800 | 80 |
| Miranda | 604 | 5 | Sergio Cabrera | Spain | 39,500 | 33 |
| Miranda | 604 | 6 | Kenny Hallaert | Belgium | 131,400 | 110 |
| | | | | | | |
| Miranda | 605 | 1 | Ivan Zhechev | Bulgaria | 63,100 | 53 |
| Miranda | 605 | 2 | Jamey Kramer | United States | 82,200 | 69 |
| Miranda | 605 | 3 | Josh Bergman | United States | 185,500 | 155 |
| Miranda | 605 | 4 | Dylan Thomassie | United States | 58,200 | 49 |
| Miranda | 605 | 5 | Justas Vaiciulionis | Lithuania | 102,600 | 86 |
| Miranda | 605 | 6 | Julien Martini | United States | 180,600 | 151 |
| | | | | | | |
| Miranda | 606 | 1 | Mike Sowers | United States | 152,600 | 127 |
| Miranda | 606 | 2 | Benjamin Zamani | United States | 15,400 | 13 |
| Miranda | 606 | 3 | Mihails Morozovs | Latvia | 82,000 | 68 |
| Miranda | 606 | 4 | Marcos Antunes | Brazil | 170,300 | 142 |
| Miranda | 606 | 5 | Bernardo Dias | Brazil | 91,500 | 76 |
| Miranda | 606 | 6 | Kurt Lichtman | United States | 34,200 | 29 |
| | | | | | | |
| Miranda | 609 | 1 | Kevin Andriamahefa | United States | 102,500 | 85 |
| Miranda | 609 | 2 | Laszlo Bujtas | Hungary | 35,600 | 30 |
| Miranda | 609 | 3 | Kyle Cartwright | United States | 69,800 | 58 |
| Miranda | 609 | 4 | Igor Kurganov | Russia | 112,000 | 93 |
| Miranda | 609 | 5 | Sadan Turker | United Kingdom | 59,000 | 49 |
| Miranda | 609 | 6 | Joe Kuether | United States | 52,300 | 44 |
| | | | | | | |
| Miranda | 610 | 1 | Jonathan [Removed:250] | United States | 41,200 | 34 |
| Miranda | 610 | 2 | Fabio Sousa | Brazil | 84,800 | 71 |
| Miranda | 610 | 3 | Kazuma Tanaka | Japan | 49,500 | 41 |
| Miranda | 610 | 4 | Andrey Shatilov | Russia | 38,600 | 32 |
| Miranda | 610 | 5 | Clayton Kalisek | United States | 39,800 | 33 |
| Miranda | 610 | 6 | Mark Darner | United States | 44,500 | 37 |
| | | | | | | |
| Miranda | 611 | 1 | Max Silver | United Kingdom | 75,100 | 63 |
| Miranda | 611 | 3 | Marvin Rettenmaier | Germany | 32,100 | 27 |
| Miranda | 611 | 4 | Daniel Barrio Canal | United Kingdom | 33,100 | 28 |
| Miranda | 611 | 5 | Simeon Naydenov | Bulgaria | 76,000 | 63 |
| Miranda | 611 | 6 | Shawn Daniels | United States | 110,900 | 92 |
| | | | | | | |
| Miranda | 612 | 1 | Louis Linard | France | 25,600 | 21 |
| Miranda | 612 | 2 | Richard Tuhrim | United States | 124,000 | 103 |
| Miranda | 612 | 3 | Ajay Gnanasambanthan | United States | 60,000 | 50 |
| Miranda | 612 | 5 | Jiri Horak | Czech Republic | 74,200 | 62 |
| Miranda | 612 | 6 | Ryan Drossel | United States | 31,200 | 26 |
| | | | | | | |
| Miranda | 613 | 1 | Kurt Fitzgerald | United States | 48,100 | 40 |
| Miranda | 613 | 2 | Rafael Caiaffa | United States | 74,000 | 62 |
| Miranda | 613 | 3 | Atanas Kavrakov | Bulgaria | 62,600 | 52 |
| Miranda | 613 | 4 | Anju Abrol | India | 30,500 | 25 |
| Miranda | 613 | 5 | Jeff Papola | United States | 138,800 | 116 |
| | | | | | | |
| Miranda | 614 | 1 | David Pham | United States | 61,900 | 52 |
| Miranda | 614 | 2 | Seth Davies | United States | 88,400 | 74 |
| Miranda | 614 | 3 | Craig Varnell | United States | 202,600 | 169 |
| Miranda | 614 | 4 | Vojtech Ruzicka | Czech Republic | 71,100 | 59 |
| Miranda | 614 | 5 | Jeffrey Smith | United States | 27,100 | 23 |
| Miranda | 614 | 6 | David Chen | United States | 24,800 | 21 |
| | | | | | | |
| Miranda | 615 | 1 | Brian Yoon | United States | 46,900 | 39 |
| Miranda | 615 | 2 | Raghav Bansal | India | 106,700 | 89 |
| Miranda | 615 | 3 | Jose Montes | United States | 119,000 | 99 |
| Miranda | 615 | 4 | Ronnie Pease | United States | 30,500 | 25 |
| Miranda | 615 | 5 | Kevin Schulz | United States | 47,300 | 39 |
| Miranda | 615 | 6 | Daniel Glass | United States | 19,200 | 16 |
| | | | | | | |
| Miranda | 618 | 1 | Peter Nigh | United States | 109,400 | 91 |
| Miranda | 618 | 2 | Joey Weissman | United States | 70,700 | 59 |
| Miranda | 618 | 3 | Diego Dubcovsky | Argentina | 121,300 | 101 |
| Miranda | 618 | 4 | Ephraim Zephaniah | United States | 25,000 | 21 |
| Miranda | 618 | 5 | Donis Agnelli | Italy | 7,300 | 6 |
| Miranda | 618 | 6 | Thomas Zanot | United States | 74,700 | 62 |
| | | | | | | |
| Miranda | 619 | 1 | Mark Johnson | United States | 36,900 | 31 |
| Miranda | 619 | 2 | Jake Schindler | United States | 27,900 | 23 |
| Miranda | 619 | 3 | Jason Funke | United States | 156,300 | 130 |
| Miranda | 619 | 4 | Jacob Daniels | United States | 35,200 | 29 |
| Miranda | 619 | 5 | Amit Makhija | United States | 79,800 | 67 |
| Miranda | 619 | 6 | Ryan Jones | United States | 174,200 | 145 |
| | | | | | | |
| Miranda | 620 | 1 | Mitch Garshofsky | United States | 56,700 | 47 |
| Miranda | 620 | 2 | Britton Purvis | United States | 47,800 | 40 |
| Miranda | 620 | 3 | Mitchell Lee | United States | 19,000 | 16 |
| Miranda | 620 | 4 | Larry Jafee | United States | 58,100 | 48 |
| Miranda | 620 | 5 | Tobias Hariefeld | Germany | 38,500 | 32 |
| Miranda | 620 | 6 | Garrett Greer | United States | 58,200 | 49 |
| | | | | | | |
| Miranda | 621 | 1 | Robin Ylitalo | Sweden | 78,600 | 66 |
| Miranda | 621 | 2 | Victor Choupeaux | France | 25,000 | 21 |
| Miranda | 621 | 3 | Andy Spears | United States | 193,200 | 161 |
| Miranda | 621 | 4 | Yue Du | China | 24,300 | 20 |
| Miranda | 621 | 5 | Aditya Sushant | India | 55,300 | 46 |
| Miranda | 621 | 6 | Erwann Pecheux | France | 82,600 | 69 |
| | | | | | | |
| Miranda | 622 | 1 | Manig Loeser | Germany | 75,700 | 63 |
| Miranda | 622 | 2 | Joshua Ladines | United States | 116,200 | 97 |
| Miranda | 622 | 3 | Igor Zektser | United States | 148,600 | 124 |
| Miranda | 622 | 4 | John Andress | United States | 88,800 | 74 |
| Miranda | 622 | 5 | Chris Ferguson | United States | 48,600 | 41 |
| Miranda | 622 | 6 | Isaac Baron | United States | 43,100 | 36 |
| | | | | | | |
| Miranda | 623 | 1 | Scott Margereson | United Kingdom | 162,300 | 135 |
| Miranda | 623 | 2 | James Chen | Taiwan | 87,800 | 73 |
| Miranda | 623 | 3 | Kristijonas Andrulis | Lithuania | 55,500 | 46 |
| Miranda | 623 | 4 | Antonio Gonzalez Miranda | Spain | 48,500 | 40 |
| Miranda | 623 | 5 | Gaelle Baumann | France | 61,900 | 52 |
| Miranda | 623 | 6 | Luke Haag | United States | 42,700 | 36 |
| | | | | | | |
| Miranda | 624 | 1 | Herb Montalbano | United States | 32,200 | 27 |
| Miranda | 624 | 2 | Nikita Leshchinskiy | United States | 44,800 | 37 |
| Miranda | 624 | 3 | Tyler Cornell | United States | 29,500 | 25 |
| Miranda | 624 | 4 | Jeff Coddington | United States | 202,400 | 169 |
| Miranda | 624 | 5 | Michael Ravn | Denmark | 70,500 | 59 |
| Miranda | 624 | 6 | David Urban | Slovenia | 23,400 | 20 |
| | | | | | | |
| Miranda | 627 | 1 | Michael Gagliano | United States | 61,000 | 51 |
| Miranda | 627 | 2 | Tim West | United States | 72,400 | 60 |
| Miranda | 627 | 3 | Dan Sindelar | United States | 30,800 | 26 |
| Miranda | 627 | 4 | Rob Tepper | United States | 64,700 | 54 |
| Miranda | 627 | 5 | Ryan Fair | United States | 45,500 | 38 |
| Miranda | 627 | 6 | Ben Palmer | United States | 96,500 | 80 |
| | | | | | | |
| Miranda | 628 | 1 | Remy Biechel | France | 32,200 | 27 |
| Miranda | 628 | 2 | Mike Leah | Canada | 23,100 | 19 |
| Miranda | 628 | 3 | Ryan Tosoc | United States | 72,900 | 61 |
| Miranda | 628 | 5 | Zachary Donovan | United States | 38,900 | 32 |
| Miranda | 628 | 6 | Finn Zwad | Germany | 37,200 | 31 |
| | | | | | | |
| Miranda | 629 | 1 | LaDarren Banks | United States | 41,800 | 35 |
| Miranda | 629 | 2 | Cole Jackson | United States | 62,300 | 52 |
| Miranda | 629 | 3 | Saya Ono | United States | 54,800 | 46 |
| Miranda | 629 | 4 | Grayson Ramage | United States | 30,800 | 26 |
| Miranda | 629 | 5 | Matthew Haugen | United States | 43,200 | 36 |
| Miranda | 629 | 6 | DID NOT REPORT 2 | United States | 1 | - |
| | | | | | | |
| Miranda | 630 | 1 | David Ormsby | Canada | 88,900 | 74 |
| Miranda | 630 | 2 | Samantha Cohen | United States | 42,000 | 35 |
| Miranda | 630 | 3 | Artem Metalidi | Ukraine | 34,700 | 29 |
| Miranda | 630 | 4 | Vanessa Selbst | United States | 124,900 | 104 |
| Miranda | 630 | 5 | Ruslan Dykshteyn | United States | 100,200 | 84 |
| Miranda | 630 | 6 | Annette Obrestad | Norway | 36,800 | 31 |
| | | | | | | |
| Miranda | 631 | 1 | Morten Mortensen | Denmark | 96,000 | 80 |
| Miranda | 631 | 2 | Thomas Paul | United States | 115,000 | 96 |
| Miranda | 631 | 3 | Martin Stausholm | Austria | 23,800 | 20 |
| Miranda | 631 | 4 | Michael Osullivan | Ireland | 49,700 | 41 |
| Miranda | 631 | 5 | Michael Haag | United States | 53,500 | 45 |
| Miranda | 631 | 6 | Scot Masters | United States | 68,500 | 57 |
| | | | | | | |
| Miranda | 632 | 1 | Thomas Miller | United States | 66,600 | 56 |
| Miranda | 632 | 2 | Elio Fox | United States | 54,600 | 46 |
| Miranda | 632 | 3 | Pascal Hartman | Germany | 73,300 | 61 |
| Miranda | 632 | 5 | Joao Vieira | Portugal | 109,500 | 91 |
| Miranda | 632 | 6 | Steve Sung | United States | 139,800 | 117 |
| | | | | | | |
| Miranda | 633 | 1 | Jim Collopy | United States | 64,700 | 54 |
| Miranda | 633 | 2 | Athanasios Polychronopoulos | United States | 28,600 | 24 |
| Miranda | 633 | 3 | Clayton Jiang | United States | 17,800 | 15 |
| Miranda | 633 | 4 | Corey Thompson | United States | 32,000 | 27 |
| Miranda | 633 | 5 | Raymond Walton | United States | 66,200 | 55 |
| Miranda | 633 | 6 | Nacho Barbero | Argentina | 129,900 | 108 |
| | | | | | | |
| Miranda | 636 | 1 | Jonathan Ruiz | United States | 111,000 | 93 |
| Miranda | 636 | 2 | Aditya Agarwal | India | 43,300 | 36 |
| Miranda | 636 | 3 | Lawrence Greenberg | United States | 19,800 | 17 |
| Miranda | 636 | 4 | Raj Vohra | United States | 74,300 | 62 |
| Miranda | 636 | 5 | Mark Dube | United States | 56,200 | 47 |
| Miranda | 636 | 6 | Vinny Pahuja | United States | 142,400 | 119 |
| | | | | | | |
| Miranda | 637 | 1 | Mike Watson | Canada | 59,200 | 49 |
| Miranda | 637 | 2 | Mihai Niste | Romania | 19,100 | 16 |
| Miranda | 637 | 3 | Kelly Garrett | United States | 50,100 | 42 |
| Miranda | 637 | 4 | Tyler Hancock | United States | 33,800 | 28 |
| Miranda | 637 | 5 | Steven Gagliano | United States | 63,900 | 53 |
| Miranda | 637 | 6 | Markus Gonsalves | United States | 81,700 | 68 |
| | | | | | | |
| Miranda | 638 | 1 | Chi Zhang | United Kingdom | 88,900 | 74 |
| Miranda | 638 | 2 | Joao Simao | Brazil | 53,000 | 44 |
| Miranda | 638 | 3 | Ty Reiman | United States | 32,600 | 27 |
| Miranda | 638 | 4 | Dhaval Joshi | United States | 25,800 | 22 |
| Miranda | 638 | 5 | Nirath Rean | United States | 51,900 | 43 |
| Miranda | 638 | 6 | Andrew Warren | United States | 59,500 | 50 |
| | | | | | | |
| Miranda | 639 | 1 | David Sands | United States | 112,400 | 94 |
| Miranda | 639 | 2 | Justin Young | United States | 84,600 | 71 |
| Miranda | 639 | 3 | Ryan Jaconetti | United States | 48,900 | 41 |
| Miranda | 639 | 4 | Jeremy Ausmus | United States | 132,500 | 110 |
| Miranda | 639 | 5 | Jerry Payne | United States | 185,700 | 155 |
| Miranda | 639 | 6 | Alex Queen | United States | 111,400 | 93 |
| | | | | | | |
| Miranda | 640 | 1 | Jake Schwartz | United States | 42,200 | 35 |
| Miranda | 640 | 2 | Griffin Abel | United States | 1 | - |
| Miranda | 640 | 3 | Julien Loire | France | 42,300 | 35 |
| Miranda | 640 | 4 | Viet Vo | United States | 25,200 | 21 |
| Miranda | 640 | 5 | Shyam Srinivasan | Canada | 70,000 | 58 |
| Miranda | 640 | 6 | Richard Syverud | United States | 103,700 | 86 |
| | | | | | | |
| Miranda | 641 | 1 | Ognyan Dimov | Bulgaria | 53,800 | 45 |
| Miranda | 641 | 2 | Luis Fabio Fonseca Freitas | Brazil | 100,300 | 84 |
| Miranda | 641 | 3 | Georgios Zisimopoulos | Greece | 142,000 | 118 |
| Miranda | 641 | 4 | Anatoly Filatov | Russia | 52,000 | 43 |
| Miranda | 641 | 5 | Tom Middleton | United Kingdom | 68,300 | 57 |
| Miranda | 641 | 6 | Daniel Weinman | United States | 66,000 | 55 |
| | | | | | | |
| Miranda | 642 | 1 | John Gorsuch | United States | 71,400 | 60 |
| Miranda | 642 | 2 | Nick Yunis | Chile | 27,600 | 23 |
| Miranda | 642 | 3 | Christopher Chiang | United States | 1 | - |
| Miranda | 642 | 4 | Ilkin Amirov | Azerbaijan | 104,000 | 87 |
| Miranda | 642 | 5 | Scott Palmer | United States | 32,300 | 27 |
| Miranda | 642 | 6 | Jordy Colliot | France | 49,200 | 41 |