Event #84: The Closer - $1,500 No-Limit Hold'em
Tage: 1a
Level: 16
Blinds: 2,500/5,000
Ante: 5,000
Level 15 : 2,000-4,000, 4,000 ante
Carlos Chang raised to 8,000 and was called by Shawn Buchanan from his big blind.
After both players checked the



flop and Buchanan checked again on the

turn, Chang tossed out 8,000 and got a check-fold from Buchanan.
Level 15 : 2,000-4,000, 4,000 ante
After Franco Spitale moved all in from early position, a middle-position player with a larger chipstack moved all in behind, which got folds from the remaining players.
Franco Spitale:



Opponent:


The



flop was a good one for Spitale, and the


runout secured his double-up.
Level: 15
Blinds: 2,000/4,000
Ante: 4,000
Level 14 : 1,500-3,000, 3,000 ante
Mike Parekh moved all in and was called.
Mike Parekh:



Opponent:


Parekh was behind and saw that he would need to hit an eight or have a very specific runout to stay alive. He got the perfect runout on the





board, turning the nutflush to stay alive on Day 1a.
Level 14 : 1,500-3,000, 3,000 ante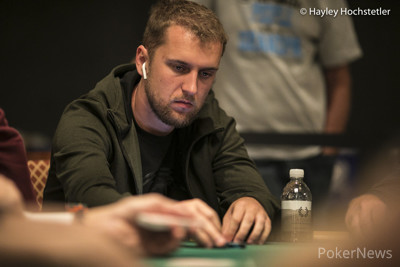 After Ryan Riess shoved his last 30,000 into the middle, action folded around to Christopher Fisher on the button, he three-bet shoved and the remaining players got out of the way.
Ryan Riess:



Christopher Fisher:


The board ran out





, which was no help to Riess, and the 2013 WSOP Main Event champion was eliminated.
Level 14 : 1,500-3,000, 3,000 ante
It was announced that there were a total of 463 entries on Day 1a, which created a prize pool of $625,050. 70 spots will be paid with a min-cash worth $2,247.
Level: 14
Blinds: 1,500/3,000
Ante: 3,000
Level 13 : 1,000-2,500, 2,500 ante
Maria Konnikova raised it to 6,000 from the button and the big-blind player called. After the big-blind player checked the



flop Maria continued for 7,000, which resulted in a check-fold from her opponent.
Level 13 : 1,000-2,500, 2,500 ante
A short-stacked Jeff Siegal moved remaining chips into the middle and was called by the big-blind player who was sitting on a sizable chipstack.
Jeff Siegal:



Big-Blind Player:


The board ran out





, and Siegal's ace-high was good enough to secure his double-up and send him some much-needed chips.