Tommy Nguyen Leads Final Eight in Bracelet Winners Event

Level 20 : 10,000-20,000, 20,000 ante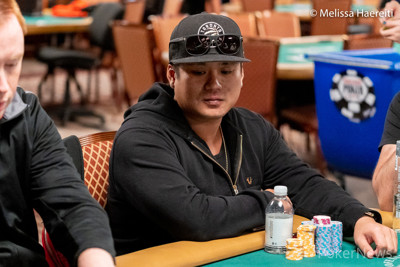 A rampageous run on the final two tables propelled Tommy Nguyen to a chip lead in the $1,500 Bracelet Winners Only Event. Nguyen is now pacing the eight-handed final table which has emerged from a 185-player field.
The finalists will return on Friday, July 12, at 2 p.m. local time, and while the event was eventually scheduled to run for four days, the tournament staff changed the plans: the tournament will be played out tomorrow. There is a $71,580 first-place prize reserved for the champ.
The Bracelet Winners event attracted a modest number of participants on Day 2, but several players opted to join the contest with 20 big blinds. Shallow stacks were flying left and right and the tournament progressed with high velocity. Nguyen cruised through the day sitting in the top half of the standings, but he didn't look to be the hottest candidate for the pole position. However, he eventually finished with 2,910,000 (a third of all chips in play), mainly thanks to his heater in the final hours of today's stretch.
Nguyen eliminated William Kakon, Nikita Luther, Cord Garcia, and Upeshka De Silva to help shape the final table. The draw wasn't too nice to Nguyen who took a seat directly to Shankar Pillai's right. Pillai holds the second-biggest stack with 2,425,000.
Michael Gagliano dominated for the better part of the day. Having capitalized on his solid start to the tournament, Gagliano put his foot firmly on the gas pedal on Day 2. He three-outed Scott Seiver in a huge pot before the bubble to establish himself as a clear leader, a status he was able to hold onto until Nguyen's rise on the final two tables.
Gagliano will return to the final table with 1,500,000, the third-biggest stack among the remaining players. Brett Apter sits in fourth place with 995,000, which is already below the average mark.
Four players bagged short stacks of under 20 big blinds: Andreas Klatt (440,000), Kevin Gerhart (370,000), Thom Werthmann (370,000), and Scott Bohlman (260,000).
While Bohlman has only 10 bigs, he has already proved that he's able to bounce back. Down to fewer than two big blinds on the final table, Bohlman refused to go out in 18th place and a streak of doubles kept him afloat, pushing him back in contention.
Nobody from the remaining players can be overlooke, with each and everyone of them having closed it out on the big stage at the World Series before. Come back at 2 p.m. for the hand-for-hand live updates. Play will start in Level 21 with the 10,000/25,000 blinds and a 25,000-ante.
| Seat | Player | Country | Chip Count | Big Blinds |
| --- | --- | --- | --- | --- |
| 1 | Brett Apter | United States | 995,000 | 40 |
| 2 | Scott Bohlman | United States | 260,000 | 10 |
| 3 | Kevin Gerhart | United States | 370,000 | 15 |
| 4 | Andreas Klatt | Germany | 440,000 | 18 |
| 5 | Michael Gagliano | United States | 1,500,000 | 60 |
| 6 | Tommy Nguyen | Canada | 2,910,000 | 116 |
| 7 | Shankar Pillai | United States | 2,425,000 | 97 |
| 8 | Thom Werthmann | United States | 370,000 | 15 |