Event #75: $1,000+111 Little One for One Drop No-Limit Hold'em
Tage: 1b
Event #75: $1,000+111 Little One for One Drop No-Limit Hold'em
Tag 1b beendet

Level 10 : 600-1,200, 1,200 ante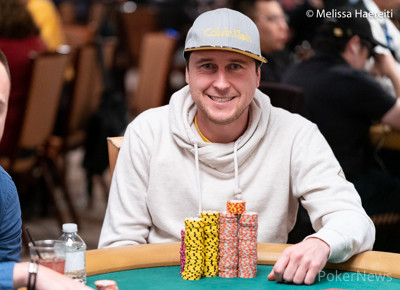 Day 1b of the $1,111 Little One for One Drop attracted over 1,500 entries and the field dwindled to around 600 players by the time for bagging. While yesterday saw some of the prolific players build huge stacks early on, today was more steady.
Only the last two-levels brought a turn of events, particularly for Stefan Ivanov who dragged a gigantic 300-big blind pot in the last level, tank-calling a robust shove with pocket queens. Ivanov found himself ahead as his opponent held just a pair of sevens, and Ivanov's hand remained the best after the river.
Ivanov eventually added some more chunks to his stack and wrapped up the 10-levels with 613,000 chips.
One of his nearest contenders was David Lolis, who was the beneficiary of a brutal cooler. Lolis was on the better side of the aces-versus-kings setup, flopping quads while his opponent rivered kings full. Lolis got the maximum value from the dream spot, and the huge clash brought his stack to the reported 524,000.
PokerNews Podcast host [Removed:139] took his seat in the first level and he stayed there until the end of the day, slowly increasing his chip-stack. Platt spent the second half of the day above the virtual average line and he will be back for Day 2 with 230,400.
Notable players who advanced through Day 1b featured the likes of Pete Chen, Mike Sexton, Mike Dentale, Michael Mizrachi, Chris Ferguson, and Antoine Labat, among others.
One more starting day is scheduled for the Little One for One Drop Event, starting on Monday, July 8, at 11 a.m. PDT. Come back to PokerNews for more live updates from what is expected to be the biggest flight of the tournament.
Level 10 : 600-1,200, 1,200 ante
The tournament organization has let us know that there are thirteen more chip counts to be added to the list below before start-of-play on Day 2.
Spieler
Chips
Fortschritt

Stefan Ivanov

658,000

158,000

Hophuong Lay

591,000

591,000

Joris Ruijs

557,000

557,000

David Lolis

525,400

525,400

Vladimir Geshkenbein

430,000

430,000

Yicheng Xu

397,400

397,400

Stephen Bierman

366,500

366,500

Alan Schein

363,000

363,000

Daniel Ott

356,900

356,900

Chiori Gannon

354,100

354,100

Luis Yepez

345,100

345,100

Brian Murphy

341,400

341,400

Hernan Crespin

340,200

25,200

Mike Dentale

336,000

111,000

Patrick Eskandar

330,700

330,700

Deborah Lavigne

319,600

319,600

Sarkis Keshishian

307,100

307,100

William Watchman

289,200

289,200

Ramona Paladino

288,000

288,000

Daniel Heredi

285,300

262,300

John Dwyer

280,200

280,200

Glen Hickman

277,800

277,800

SheLok Wong

274,200

274,200

Ofer Zvi Stern

266,200

266,200

Henri Buhler

265,000

265,000
Level 10 : 600-1,200, 1,200 ante
The tournament staff just announced the remaining players will play five more hands before bagging and tagging for the night. Stay tuned for some chip counts and a recap of the action.

Level 10 : 600-1,200, 1,200 ante
Following a raise from an early position, Pete Chen three-bet to 8,000 from the cutoff. The action returned to the opener who four-bet to 17,000 and called off when Chen five-bet shipped his 45,400 stack.
Chen held


and he needed to avoid high board as he was up against


. The dealer rolled out





and Chen doubled up.
Spieler
Chips
Fortschritt

Pete Chen

93,800

Ambassador

Level 10 : 600-1,200, 1,200 ante
Chris Ferguson raised to 2,600 in the hijack and a player on his left three-bet to 8,000. Ferguson matched the bid.
The



flop was checked and Ferguson check-called 8,000 on the

turn.
The river fell

and Ferguson check-called another 12,000. The other player showed


and Ferguson couldn't beat that, showing he had


.

Level 10 : 600-1,200, 1,200 ante
Allyn Shulman raised from an early position, her neighbor three-bet to 6,500 and Shulman fired back with a four-bet to 17,500. She received a call and they went to the



flop.
Both players checked and Shulman fired 15,000 on the

turn. Her opponent gave up and Shulman raked in the pot, improving to 85,000 or so.
Level 10 : 600-1,200, 1,200 ante
We happened upon the table with Stefan Ivanov, who had 29,500 out in front of him, debating what to do as his opponent directly to his left was all in for 177,400. Ivanov, who back in 2015 won a Venetian Deep Stack event for a career-high $111,000, thought long and hard before tossing in a single chip to call.
Ivanov:



Opponent:


"How do you always have it?" the at-risk player asked. He then watched as a queen appeared in the window on the



flop. The

turn meant a jack on the river would result in a chop, but the fishhook wasn't in the cards as the

bricked instead.

Level 10 : 600-1,200, 1,200 ante
[Removed:139] defended his big blind, calling a 2,400-raise from a player on the button.
Platt check-called 2,600 on the



flop and then check-called again on the

turn, matching a 6,200-wager.
The

river filled the flush draw and Platt opted to lead into the pot, betting 10,500. The other player briefly analyzed the situation and then he sent his cards towards the dealer.
Spieler
Chips
Fortschritt

[Removed:139]

250,000

25,000
Level: 10
Blinds: 600/1,200
Ante: 1,200