Wolff and Schwartz Lead Final Nine in $10,000 Limit 2-7 Lowball Triple Draw Championship

Level 17 : 15,000-30,000, 0 ante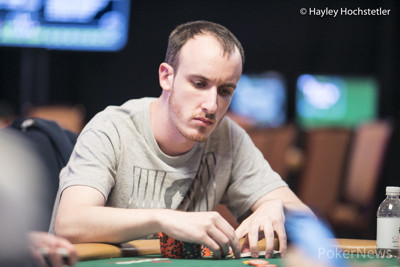 The Event #49: $10,000 Limit 2-7 Lowball Triple Draw Championship drew a field of 100 players and only nine of them made it through the first two days of play. They will continue to pursue their quest for the bracelet and $273,336 first-place prize on Saturday, June 23, at 2 p.m. on the outer feature tables in the Amazon Room.
Leading the way is George Wolff who bagged up 1,380,000. Wolff came back for Day 2 with a promising stack and he stayed in the top half of the chip counts for almost the whole day. However, there was a point where Wolff's odds didn't look too exciting. It was with 17 players left, only two eliminations from paid places, when Wolff dropped to third-to-last.
But Wolff bounced back and the chips started gravitating back towards him. He knocked out Tommy Hang in 12th place and it has been essentially a two-horse race between him and Luke Schwartz for the lead since then.
If Wolff registered some troubles around the bubble, Schwartz was right in the epicentre of the survival grind. Schwartz was almost touching the ground but Dimitri Holdeew couldn't call Schwartz's final big bet, and Schwartz would start clawing back.
Schwartz took over the chip lead before the final break of the day, and while he added some chips to his stack in the home stretch, he would eventually finish with the second-biggest stack of 1,310,000.
That is still a fine heap for the Englishman as his nearest rivals are far behind. Nonetheless, nothing easy awaits Wolff nor Schwartz on what could be the final day—the tournament is scheduled as a four-day event but there is a solid chance it will be played out tomorrow.
With the likes of Brian Hastings, Calvin Anderson, Johannes Becker, and Mike Gorodinsky among the final nine, it is guaranteed that whoever will emerge victorious will have to bring their best game to the last two tables. Further bracelet winners Daniel Ospina and Yueqi Zhu are also in the mix and so is Mark Gregorich who knocked out Benny Glaser in 10th late into today's play to bag an impressive 794,000.
Keep following PokerNews live updates to find out who will prevail in the star-studded lineup in the Championship triple draw event. Play continues at 2 p.m. local time with the 20,000/40,000 limits.
| Room | Table | Seat | Player | Country | Chip Count |
| --- | --- | --- | --- | --- | --- |
| Amazon | 2 | 1 | Daniel Ospina | Colombia | 507,000 |
| Amazon | 2 | 2 | Calvin Anderson | United States | 519,000 |
| Amazon | 2 | 4 | Mike Gorodinsky | United States | 364,000 |
| Amazon | 2 | 5 | Lukas Schwartz | United Kingdom | 1,310,000 |
| Amazon | 2 | 6 | Johannes Becker | Germany | 399,000 |
| | | | | | |
| Amazon | 3 | 1 | George Wolff | United States | 1,380,000 |
| Amazon | 3 | 3 | Yueqi Zhu | China | 197,000 |
| Amazon | 3 | 4 | Brian Hastings | United States | 528,000 |
| Amazon | 3 | 5 | Mark Gregorich | United States | 794,000 |