Schwarmann Makes Sicko Move on Park, DeGilio Takes Advantage of the Tilt
Level 20 : 4,000-8,000, 1,000 ante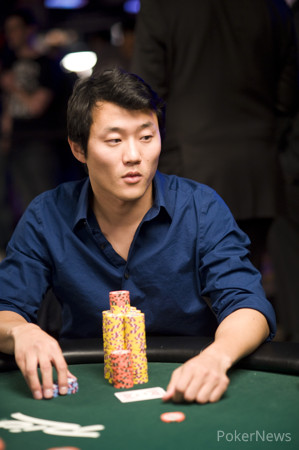 With the flop reading



, Nick Schwarmann check-called a bet of 17,000 by Daniel Park. The dealer turned a blank in the

, and Schwarmann checked once more, prompting Park to continue his line with a wager of 25,000.
Schwarmann instantly announced himself all in for a massive overbet of 700,000, and Park was sent deep into the tank as he faced a bet for his tournament life.
Park began to laugh to himself as he pondered the significance of such a large bet. He sighed more than once, while looking up to the Rio's rafters for an answer.
"Ahhh..." he said, obviously confused by the move put on by Schwarmann. "What?"
Eventually, Park elected to surrender the hand, and when he tossed his cards away Schwarmann immediately tabled the


with a flourish, showing the stone cold bluff for all to see.
"Nice hand," said Park, while Schwarmann's friends along the rail whooped it up in support.
"Did you teach him that," asked Mike DeGilio, who observed the drama from a front-row seat at the table.
"No, that's all Nick Schwarmann," was the reply from the rail. "He's got bigger stones than I do!"
Soon after this hand, Park found himself confronted with yet another difficult decision, this time on a board of





. DeGilio had check-raised Park's bet of 45,000, making it 123,000 to go, and once more Park went into the tank.
Eventually, after checking his cards multiple times and muttering under his breath, Park announced "I call," while waiting for DeGilio's hand to be tabled. When Park saw the


, all he could do was shake his head and offer yet another "nice hand" across the table, along with a few more of his chips.