Level:

1
Blinds:

50/75
Ante:

0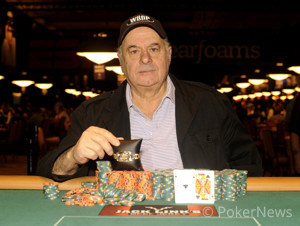 The 2013 World Series of Poker started this afternoon with the $500 Employees Event. In a little bit the first open event is starting and it's going to be a big one. The $5,000 No-Limit Hold'em eight-handed event is starting at 5 p.m. and we can't wait to see who'll show up.
Last year the opening event was a $1,500 No-Limit Hold'em tournament, which was eventually won by Brent Hanks who bested Jacob Bazeley and 2,099 others to walk away with the $517,725 first prize. We had to wait till event number 50 to see a $5,000 no-limit hold'em event. It wasn't eight-handed like it will be today though.
In that event Panayote "Peter" Vilandos was victorious beating, amongst others, Kyle Julius and Dan Smith at a tough final table. Panayote took home $952,694 and the gold bracelet. 1,001 players competed in that event but can we use that as an indication for the amount of players who will be showing up this year? Only time will tell! Find out at 5 p.m. as we bring you coverage from the first flop till the last river which will probably fall a little after 3 a.m.
Event #2: $5,000 No-Limit Hold'em (Eight Handed)
Tag 1 begonnen