Filippi Doesn't Need the Straight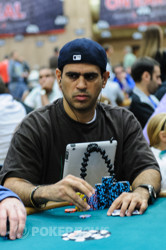 It's been a great level for Amnon Filippi so far. We saw him earlier with no orange T5,000 chips and only a handful of yellow T1,000 chips, but we just caught him winning a hand that has upped his stack to 115,000.
We caught the action on the flop, which read



. Filippi's opponent bet out 1,700, and Filippi said "That seems like a very fair bet from a very fair player" as he tossed in the call. The turn brought a third diamond, the

, and Filippi faced another bet, this time 4,400. Filippi took about 20 seconds to make the call, and the river was the

. This time, it was checked to Filippi, and he assembled a big bet of 16,400, and stuck it in the middle. This was alittle more then a pot sized bet, and his opponent folded, murmuring something about Filippi having a straight as he mucked his hand.
Filippi said "just for you" as he flung his hand face up into the middle:


for the nut flush. Filippi commented "I didn't need the straight!" as he raked in the chips.
Spieler
Chips
Fortschritt

115,000

57,000