Ali Eslami Eliminated in 8th Place ($26,004)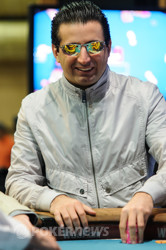 The action folded to Ali Eslami, who raised to 120,000 or so from the cutoff, leaving one yellow T1,000 chip behind as a card protector. Nick Schulman called out of the small blind, and the big blind released.
Schulman stood pat, Eslami drew one, and Schulman fanned





, thinking Eslami was all in. He was not, and when he received a

he folded his jack-seven face up. Schulman wasn't happy about what Eslami did, but Eslami said he does it in every tournament.
"I want the chip-and-a-chair story!" Eslami admitted. "I have a shot at something epic!"
The next hand, Eslami was all in with one-third of an ante, and the action folded to George Danzer, who raised to 20,000 in middle position. Nick Schulman called on the button, and Bob Bright called out of the small blind.
| Player | Draw |
| --- | --- |
| Bright | 1 |
| Danzer | Pat |
| Eslami | 3 |
| Schulman | 1 |
The action checked to Schulman, who fired 75,000, and Bright thought for a long time, then called. Danzer folded, and Schulman tabled





. Bright looked frustrated, and it's no surprise - he showed





, which is one card worse than Schulman's hand.
Schulman was pulling in the monster side pot, and Eslami announced that he was drawing live for the antes. He turned over


, then turned over a

.
"Still drawing live," he said.
Eslami turned over a

.
"Still drawing live."
The last card he placed on the far left, thinking it was a deuce, and it was no-sided, but it was an ace, eliminating him in ninth place.
We're now at an official final table, and play will resume in 20 minutes or so.