Event 6: $5,000 No-Limit Hold'em Mixed-Max
Tag 4 beendet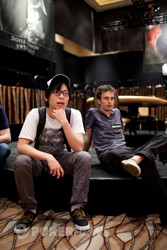 Day 4 of Event 6, the $5,000 No-Limit Hold'em Mixed-Max, began with four players remaining from the starting field of 409. The plan was for the winner of the two semi-final matches to play in a championship match. How did the semi-final matches play out?
Joseph Cheong defeated Hugo Lemaire in what was a one-sided match from the start. Within 15 minutes of the start, Cheong cracked Lemaire's aces with pocket threes to take a solid chip lead. He never looked back from there and closed out the match in just less than three hours.
It was a different story for Aubin Cazals. His match with Warwick Mirzikinian lasted for nearly nine-and-a-half hours. Mirzikinian had control for much of the match and had Cazals all in and at risk twice, but Cazals would not settle for a third-place finish. He fought back valiantly and earned the victory.
What came next was much debate as to when the championship match would take place. In the end, it was agreed upon by all parties involved that the championship match will convene at 9:00 AM Monday morning. However, following Cheong's elimination in Event 9, the two players agreed to bump the start time to 12:00 PM. Following confirmation from the WSOP staff, it was settled.
Our very own Kristy Arnett caught up with Joseph Cheong to discuss the situation following his elimination from Event 9. Check out the video interview.
The blinds and antes will pick up at the 4,000/8,000/1,000 level and here is how they will stack up:
| Player | Chips |
| --- | --- |
| Joseph Cheong | 3,112,000 |
| vs. | |
| Aubin Cazals | 3,018,000 |
Be sure to join us at noon local time to see who will capture the coveted WSOP gold bracelet!
While Joseph Cheong and Aubin Cazals conferenced about their decision of when to play, our photographer Neil Stoddart was on hand to capture the situation. Check out the photos below.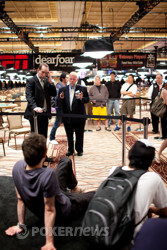 Set your alarm, and make sure you get some coffee brewing — Joseph Cheong and Aubin Cazals are set to play the earliest final table in the history of the World Series of Poker.
Minutes after Cazals defeated Warwick Mirzikinian, Cheong returned from the Brasilia Room and the other event he was playing.
"What do you want to do?" Cheong asked Cazals.
The two talked for a bit, and ultimately decided that they wanted to come back and play on Tuesday, because Cheong has a solid stack in Event 9: $1,500 No-Limit Hold'em Re-Entry, and Cazals was tired after a nine-hour heads-up marathon. The two reviewed a WSOP schedule together and felt Tuesday would be the best day when they wouldn't have to miss any other events.
"Let's just postpone it until September," Cheong joked. "Or on a day with like the 10K Stud."
It seemed like it was all settled. Cheong and Cazals were about to exchange numbers, until one of the tournament directors, Dennis Jones, got WSOP Tournament Director Jack Effel on the phone. According to Jones, who was speaking through Effel, the tournament can't be postponed that long — an issue that has to do with the Nevada Gaming Commission. The players were informed that before the Series started, a specific tournament structure was submitted to the NGC, and the WSOP isn't allowed to deviate from it.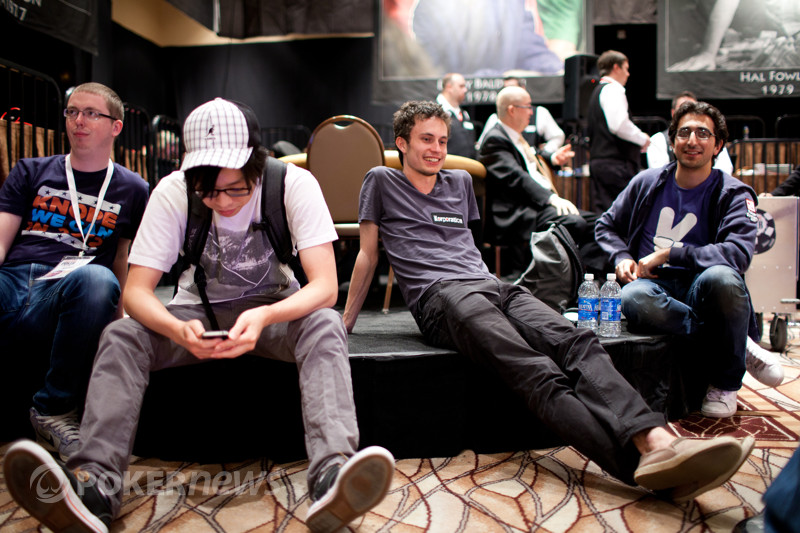 Joseph Cheong, Aubin Cazals, media members and railbirds awaiting the decision
"Here's the situation," Jones explained. "None of them are good. Theoretically we need the second match to start tonight, or tomorrow at 11, 12 or 1."
Cheong tried to protest, saying that he really can't play tomorrow, but the tournament staff was firm. There was then a discussion about how late they could play tonight, but the 10-level rule is strict as well. The latest Jones would let them play is 3:00 AM.
"This is a first-time event," Nolan Dalla explained to Cheong and Cazals. "We're all learning."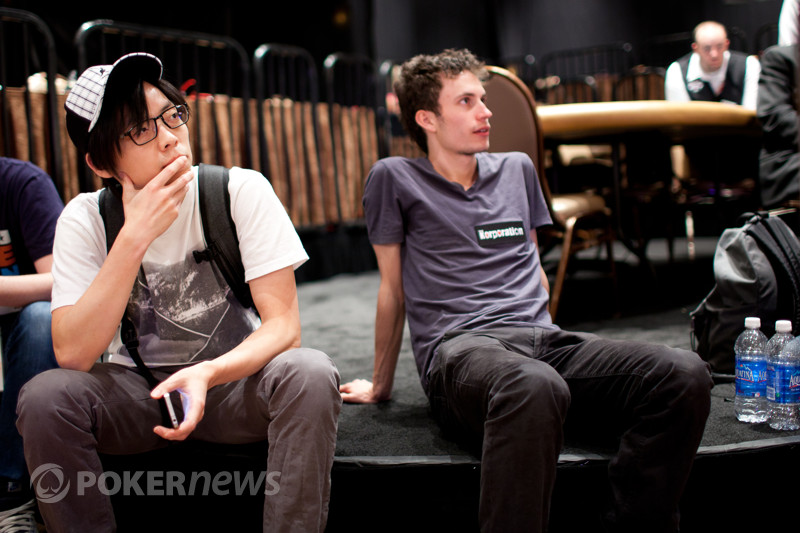 Cheong and Cazals listening to the ruling
Cheong and Cazals understood this, but they were still very unhappy about not being able to dictate what was going to happen. Eventually, the two came to an agreement that they would resume play at 9:00 AM tomorrow. Jones confirmed this, and the mini-conference at the secondary feature table in the Amazon Room was over.
With that, Cheong is off to play his stack in Event 9, and Cazals is off to get some sleep. If Cheong stays in Event 9 until the completion of play tonight, he will more than likely be at the Rio until at least 12:30 AM, as that's when play will approximately end for the night.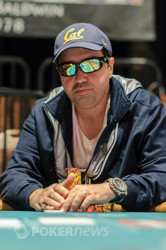 Aubin Cazals raised to 70,000 on the button and Warwick Mirzikinian three-bet to 200,000 from the big blind. Cazals four-bet all in with the bigger stack and Mirzikinian called all in for an additional 650,000-ish.
Cazals:



Mirzikinian:


Cazals was a big favorite and maintained his lead through the



flop. The

turn changed nothing, leaving Mirzikinian down to just three outs to survive.
No miracle came as the river was the

, spelling the end for Mirzikinian.
| | | | | | |
| --- | --- | --- | --- | --- | --- |
| Aubin Cazals | | | | 3,018,000 | 1,018,000 |
| Warwick Mirzikinian | | | | Ausgeschieden | |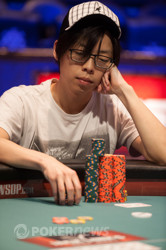 When Joseph Cheong defeated Hugo Lemaire over six hours ago, he decided to hop into today's $1,500 re-entry event. He currently has over 20,000 chips over in the Brasilia Room, and, since he's on break, he decided to come back to the Amazon Room to check out what's going on. He's not paying much attention to the action however - he just wants to figure out if the finals will occur tonight or tomorrow.
There's been no official word thus far however, so Cheong is headed back to grind Event 9.
Level:

26
Blinds:

15,000/30,000
Ante:

5,000
Aubin Cazals raised to 60,000 on the button and Warwick Mirzikinian defended his big blind.
The flop came down



and Mirzikinian check-called 80,000 to see the

hit the turn. A check from both landed the

river. Mirzikinian checked it to Cazals who bet 228,000.
Mirzikinian fidgeted around in his chair as the amount was announced and proceeded to call shortly thereafter, but saw the bad news when Cazals tabled


, besting Mirzikinian's smaller ace to win the pot.
| | | | | | |
| --- | --- | --- | --- | --- | --- |
| Aubin Cazals | | | | 2,000,000 | 470,000 |
| Warwick Mirzikinian | | | | 1,018,000 | -470,000 |
Warwick Mirzikinian had the button and called. Aubin Cazals raised to 65,000, Mirzikinian called, and the flop fell



. Cazals led out for 85,000, and Mirzikinian called.
The turn was the

, and Cazals led again - this time for 230,000 - and Mirzikinian folded.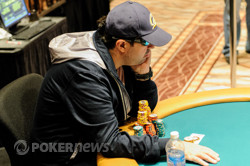 Warwick Mirzikinian raised to 85,000 on the button and Aubin Cazals re-raised all in with the bigger stack from the big blind. Mirzikinian called immediately with


, well ahead of the


of Cazals.
The

was the window card, but when the entire flop was spread it read



. Cazals paired his ten, but Mirzikinian did the same with his king. The

turn and

river were no help to Cazals, securing the double up for Mirzikinian and nearly evening out the stacks.
| | | | | | |
| --- | --- | --- | --- | --- | --- |
| Aubin Cazals | | | | 1,530,000 | -855,000 |
| Warwick Mirzikinian | | | | 1,488,000 | 855,000 |