Gold Section Review: Lucien Cohen is Out; Micon Loving Life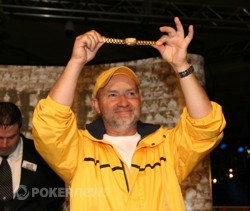 We never got to see the big plastic rat of Lucien Cohen because he is out. We believe that he got his last few pennies worth in holding


and lost a race versus


when his opponent turned a set.
Of the newer faces to prop their behinds into golden chairs we have 2 World Series of Poker (WSOP) bracelet winners: one short and one tall. First the smaller of the two, Ken Aldridge, who is seated at Table 8. Aldridge, who is dressed in his customary yellow clothing, has his bracelet slung proudly over his wrist, a bracelet he won in 2009 when he defeated the likes of Praz Bansi and Bryn Kenney to take down a $1,500 No-Limit Hold'em event - and with it - $428,259 in prize money.
The taller WSOP bracelet holder is none other than Huck Seed. Seed is a WSOP legend with 4 WSOP bracelets (including a main event title) and $2,918,535 in WSOP career earnings. Seed is currently residing in the ten seat at Table Eleven.
Bryan Micon is loving life over at Table 1, Check it:
BryanMicon Bryan Micon Wheeee 5800 in the $1k Megamillionsament current table stats: 4/10 Wsop logos, 1 female, 6 non-beats headphones, 5 sunglasses #ddwsop July 04 2012
Spieler
Chips
Fortschritt

Todd Terry

8,000

4,800

Carla Solinas

7,100

Bryan Micon

6,100

3,900

Dominik Nitsche

4,800

Salman Behbehani

3,700

Ken Aldridge

3,600

600

Ruben Visser

3,400

300

Huck Seed

2,650

-350

Lucien Cohen

Ausgeschieden