McLean Karr Furious About Ruling
Level 2 : 75-150, 0 ante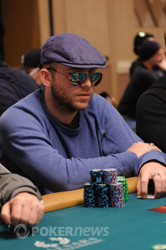 "This is too much money to be f***king with me right now!" McLean Karr just shouted from the top of his lungs as we ran over to his table. There a whole lot going down over in the Brasilia Bronze section, and Karr was far from done with the hand he just lost because of an apparent error.
McLean Karr, a very polite, well spoken and respected professional just got caught up in a very controversial hand. Karr is known for winning the World Poker Tour Bay 101 for $875,500 back in 2010, and has many cashes from all over the world. His total live winnings as of today exceed $2.2 million.
"What could I have done differently?" Karr cried as the floor staff ruled that the hand was not going to be reversed.
"Call Jack, I want you to call Jack right now!" Karr shouted angrily as he wanted another ruling from head-tournament-director Jack Effel. The floor staff tried to contact Effel, but since the Big One for One Drop final table had just started it was impossible for him to come over.
"Please, don't deal another hand. This can all be fixed as long as the dealer doesn't deal another hand," Karr said as the new dealer sat in silence while this debate was going on. The dealer who had made the mistake was pushed to a new table right after the hand in question, and Karr took another go at stating his case.
"What could I've done differently?" Karr asked again as he went on to explain what happened. "I said ace-high out loud when I tabled my hand, everyone at the table saw it! Please tell me you heard it?" Karr said as he walked over to the dealer who was seated just one table over.
"I don't remember," she said, and Karr started begging her to confirm what she had said before.
The players at the table confirmed that Karr did announce, and tabled, his hand, but since his cards were mucked the floor staff couldn't reverse the action.
"This is a 8,000 chip difference! Do you have any idea how much money that is?" Karr said, as he was getting angrier by the second.
"I'm getting penalized here for a dealer who knows she messed up! I didn't muck my hand! This is such a f***king mistake! She fought me for the cards when I tabled them, I didn't do anything wrong," Karr went on as he slammed his remaining chips onto the felt.
Many railbirds showed up for this big event, and at least five of those seemed to have been there from the start of the hand, all of wich were supporting Karr's case. "She's just afraid she's gonna lose her job!" one of the angry railers shouted as the crowd grew bigger and bigger.
The floor staff wasn't going to reverse the action on the hand, and play went on as Karr told us the actual river action.
Karr had tabled


and his opponent showed


and the hand should've been chopped. Karr said he clearly announced ace-high when tabling his hand, and the pot was supposed to be chopped.
"What can I do? I feel so powerless!" Karr finally added as the player to his right showed us where the tabled cards were when the dealer grabbed them.
The pot wasn't chopped and Karr was left with 17,200 chips.