Level:

2
Blinds:

25/50
Ante:

0
Lana O'Brien was sitting with her entire stack pushed out before her, an all-in bet on the river with the board showing





. Her opponent thought for a while, then finally made the call, risking her last 1,700 or so.
O'Brien quickly tabled her


for tens full of sevens. Her opponent showed


, and headed to the rail.
With the board showing





and about 1,700 already in the middle, the player playing from the big blind checked. The action was on Liv Boeree, playing from middle position, and she tanked for about a half-minute before tossing out a single yellow chip for a bet of 1,000.
Her opponent then thought considerably longer, perhaps three minutes, before finally letting her hand go.
Vanessa Selbst is here, too, although it appeared her stay might be brief after she found her stack sink to just 250 chips in the early going.
Just now Selbst put that stack at risk before the flop from middle position and was up against two callers in the cutoff and big blind. Her two opponents checked down the



flop,

turn, and

river.
At showdown one showed


and the other


, while Selbst tabled


for two pair and survival.
A quick pass through half of the room reveals a few familiar faces, including Maridu Mayrinck, Liv Boeree, Kathy Liebert, Lana O'Brien, and Lynn Gilmartin.
Last year's runner-up Karina Jett is here, too, as is 2005 Ladies event champ Jennifer Tilly.
Another quick pass through the other side of the large Brasilia room finds a few more players we recognize.
Last year's champion Marsha Wolak is here, of course, as is Erika Moutinho who finished 29th in last year's WSOP Main Event. So are Lacey Jones, Wendeen Eolis, J.J. Liu, Lisa Parsons, Marie-Lizette Acoba, Kristy Arnett, and Danielle Barille.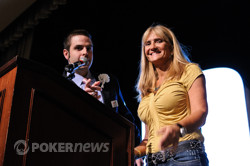 "Good afternoon and helloooo ladies!"
So said WSOP Tournament Director Jack Effel, welcoming the huge crowd gathered here in the Brasilia Room for the start of Event 51: $1,000 Ladies No-Limit Hold'em Championship. After further salutations, Effel outlined some tourney rules, then turned over the microphone to last year's winner, Marsha Wolak, who was greeted with a warm round of applause.
"Girls… let's shuffle up and deal!" said Wolak. Cards are in the air!
Level:

1
Blinds:

25/25
Ante:

0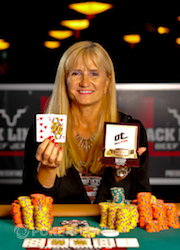 As the great Kool and the Gang once eloquently declared, oh yes, it's ladies night. Welcome to Event 51, the $1,000 Ladies No-Limit Hold'em Championship!
This marks the 36th consecutive year the WSOP has included a women's-only event as part of the schedule. Jackie McDaniels won the first ladies event in 1977, a $100 buy-in seven-card stud tournament.
The ladies continued to play seven-card stud through 1999. Among the winners during that era were June Field (1982) Poker Hall of Famer Barbara Enright (twice, in 1986 and 1994), Starla Brodie (1995), and Susie Isaacs (twice, in 1996 and 1997). Other players cashing in ladies events early on at the start of what would become lengthy, remarkable careers in poker include Cyndy Violette, Jan Fisher, and another Poker Hall of Famer, Linda Johnson.
By 1998 the buy-in had increased to $1,000 (where it has remained ever since), and starting in 2000 the tournament was played as a mixed event combining seven-card stud and limit hold'em. Winners during that stretch included Nani Dollison (twice, in 2000 and 2001), Catherine Brown (2002), and Barb Rugolo (2003).
Reflecting the rise in popularity of no-limit hold'em, the ladies event switched format again in 2004 to become a NLHE event and has remained so since. Here's a list of winners, entrants, and first-place prize money since the switch.
| Year | Winner | Prize | Entrants |
| --- | --- | --- | --- |
| 2004 | Hung Doan | $58,530 | 201 |
| 2005 | Jennifer Tilly | $158,335 | 601 |
| 2006 | Mary Jones | $236,094 | 1,128 |
| 2007 | Sally Anne Boyer | $262,077 | 1,286 |
| 2008 | Svetlana Gromenkova | $224,702 | 1,190 |
| 2009 | Lisa Hamilton | $195,390 | 1,060 |
| 2010 | Vanessa Hellebuyck | $192,132 | 1,054 |
| 2011 | Marsha Wolak | $192,344 | 1,055 |
Who will be next to join the list of ladies event winners and earn that most coveted piece of jewelry in poker, a WSOP bracelet? Find out starting at noon Vegas time as we bring you start-to-finish coverage of the three-day Event 51 right here at PokerNews.
Event 51: $1,000 Ladies No-Limit Hold'em Championship
Tag 1 begonnen