Fernando Brito Eliminated in 3rd Place ($282,676)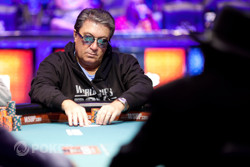 Fernando Brito just went on a surge, that for a short while looked like it was driving him into contention in this three way battle. But if he was really going to get serious he needed to win a big showdown and when it mattered the most, the cards let him down.
Brito shut down both Weissman and then Quehen with three-bets pre flop before he was facing one himself. It was Weissman who pulled it out of the bag and Brito called bringing us to a flop of



. Weissman bet 400,000 and Brito moved all-in.
"What do you have?" puzzled Weissman before folding.
So the momentum was very much with Brito when he once again three-bet pre flop. Once again it was Weissman and he moved all-in. Brito called and we had the showdown that Brito needed to cement his progress with an accumulation of serious chips.
The flop brought some oohs and aahs from the crown when some of them mistook the queen for a jack -



. The turn card was the

and the crowd once again was maniacal. This time, however, Weissman remained unmoved. The river card was the

and it was over for Brito. A very sporting Weissman heading over to Brito to console him before heading to the rail for the jubilant high-fives (and the low paw for the mutt).