Congratulations to Michael Mizrachi, Winner of Event 45: $50,000 Poker Players Championship ($1,451,527)
Level 22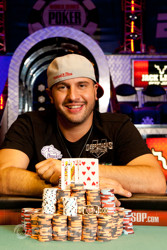 And there you have it. Michael Mizrachi is once again the $50,000 Poker Players Championship winner! After a five-day battle with some of the greatest poker players in the world, he came out on top. Mizrachi adds $1,451,527 to his massive list of results and he will now be in fourth place on the all-time money leader board.
The final table started off with a massive bang as Mizrachi won three in a row right away. On the third hand of play, during No-Limit Hold'em, he knocked out both Bruno Fitoussi and Bill Chen.
Chen and Fitoussi Eliminated
Fitoussi started the day as the short stack, and he moved all in for his final 170,000. Chen made the call, Mizrachi three-bet to 400,000 and Chen moved all in for his 1.2 million chips. Snap-call.
Mizrachi showed


, and was miles ahead of Chen, who showed


. Fitoussi had


and after the





board, both Fitoussi and Chen hit the rail.
Chidwick Goes Next
Right from the start Mizrachi crushed his opponents, and it seemed like he was in a hurry to get to the winners party. Stephen Chidwick was the next one to go out, earning $253,497.
During Pot-Limit Omaha, Chidwick got his final money in on the turn with the board showing




. Mizrachi tabled




for a full house, and Chidwick was drawing slim with his




. The river was the

and Chidwick was gone. Mizrachi already had almost half the chips in play at that point.
A Beautiful Run Ends
Roland Israelashvili was the most unexpected name at the final table, as he made the most of his $2,250 investment winning a satellite earlier this week. Israelashvili was the second shortest stack at the start of the day and earned himself $317,882 with his fifth-place finish. Israelashvili got his final chips into the pot in 2-7 Triple Draw when both Bloch and Mizrachi checked the hand down. Israelashvili ended up with a





, but that was no good against Bloch's





.
And Then it Got Quiet
Luke Schwartz was by far the most talkative player at the final table, and his needling comments had many players cracking up. Schwartz couldn't get anything going at the final table, but his fourth place finish is impressive to say the least. This cash marks Schwartz's first in a non Hold'em or PLO tournament and also his biggest to date earning him $406,736.
During No-Limit Hold'em, Schwartz got his money in with


and was up against Chris Klodnicki's


. The board ran out





and due to an unlucky river, Schwartz got eliminated. Klodnicki chipped up nicely and proved himself to be a real contender for the title. He took the chip lead, but that didn't last long.
Bloch Falls Short
Back in 2006, when this tournament was hosted for the first time, it was Andy Bloch who played a record-setting-heads-up match for the title against the late Chip Reese. In 2012 Bloch came close again, but this time he busted out in third place earning $561,738.
Bloch had a good shot at winning this thing with three players remaining, but eventually he ran into the brick wall that was Mizrachi. In Pot-Limit Omaha Bloch lost a big pot, and couldn't pull off a comeback. On Bloch's final hand he got his money in during Limit Hold'em, and both Klodnicki and Mizrachi called when he was all in pre flop. Mizrachi and Klodnicki both checked the



flop, and Bloch got heads up when Mizrachi folded on Klodnicki's turn-bet. Bloch turned over


and was facing


. The river was the

and Bloch was sent home.
The One-sided Title Fight
Mizrachi started the heads-up match with 10.5 million to Klodnicki's 5.7 million. For just a couple of hands Klodnicki got up to more than six-million chips, but from that point on it was the big Mizrachi show. Klodnicki stood no chance against the fearless, agressive and well-running Mizrachi who cruised to victory.
On the final hand in Omaha-8, Klodnicki was all in pre flop and showed




. Mizrachi tabled




, and claimed the title when the board ran out





. Klodnicki took home $896,935 for his efforts, but the massive first-place prize was for Mizrachi who won $1,451,527.
| Place | Player | Country | Prize |
| --- | --- | --- | --- |
| 1 | Michael Mizrachi | United States | $1,451,527 |
| 2 | Chris Klodnicki | Unites States | $896,935 |
| 3 | Andy Bloch | United States | $561,738 |
| 4 | Luke Schwartz | United Kingdom | $604,736 |
| 5 | Roland Israelashvili | United States | $317,882 |
| 6 | Stephen Chidwick | United Kingdom | $253,497 |
| 7 | Bill Chen | United States | $205,856 |
| 8 | Bruno Fitoussi | France | $169,879 |