Blom Leads Into Day 4; Money Bubble Looms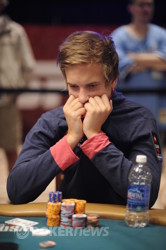 Arguably the most exciting day at the World Series of Poker every year is the day when the $50,000 Poker Players Championship reaches the money. Today is that day and it's expected to be a great one for fans, but a very stressful one for the players.
Returning to the felt for some more eight-game action are 26 of the best poker players in the world. Topping the bunch is WSOP rookie Viktor Blom, who was on the fortunate end of a miracle one-outer late last night that catapulted him into the lead. Blom will enter Day 4 with 1.262 million in chips.
Hot on his heels and also over the million-chip mark are David Oppenheim (1.165 million), Daniel Alaei (1.058 million) and David "ODB" Baker (1.025 million). John Hennigan rounds out the top five stacks with just under the seven-figure mark at 992,000.
With 26 players remaining and the money line set at 16, the bubble will be reached and broken at some point today. Those cashing will pocket a minimum of $91,549, while reaching the overall goal today of making the final table will garner a payday of $169,879 to the final eight players.
There are plenty big names left in the field and you can refer to the table draw below to see where they are all seated or to the chip count page to see their stacks. David Chiu (160,000), the aforementioned Cassidy (141,000), Michael Glick (71,000) and Phil Hellmuth (28,000) are the players at most risk with less than 200,000 in chips. Hellmuth finished runner-up in this event last year and the 12-time WSOP gold bracelet winner is on the chopping block with just a tiny amount of chips.
Also alive is 2010 champion Michael "The Grinder" Mizrachi and his brother Robert Mizrachi. Both final tabled the event in 2010 before Michael went on to win it and they're very much alive to try and do that again.
Play is scheduled to kick off at 2:00 PM PT at the Rio in Las Vegas. PokerNews will be on hand for all of the action. We wouldn't want you to miss anything, so stay tuned for the live updates coming to you shortly!