The Ladies Make Their Mark On Day 2
Level 18 : 5,000-10,000, 1,000 ante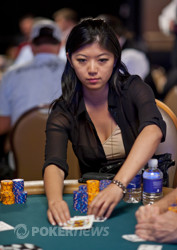 Day 2 of the Seven-Card Stud Hi/Lo Event #4 saw 198 of the initial 622 players returning to the Amazon Room for the bursting of the bubble, among other things. Ten levels were booked with a dinner break in the middle, and play has just concluded for the night with 23 players remaining. As the dust settles, we see that it's the charming Xuan Liu who'll carry the chip lead into tomorrow's finale. She bagged up 330,500 to set the pace for Day 3. Hot on her heels is Chris Tryba and his stack of 307,500.
First, though, the bad news. The list of notables who failed to survive this Day 2 is an impressively long one. A few highlights on the list: Phil Ivey, Scotty Nguyen, Barry Greenstein, One Drop participants Cary Katz and Dan Shak, defending champion Chris Viox, David Bach, Chau Giang, Dutch Boyd, Jon Turner, Chris Klodnicki, Mike Watson, Dan O'Brien, and Daniel Idema.
The money bubble burst shortly before the dinner break, and it was Jamie Kaplan receiving the wooden spoon. Kaplan had a pair of sixes and a big low draw on his final hand, but Vladimir Shchmelev made a pair of aces on fourth street. And they held. Kaplan was out in 65th place, and that was a big relief to one player, in particular. Andrey Pateychuk limped into the money with just 1,600 lonely chips left to secure his second career WSOP cash. It will not be his last, that's a near certainty for one of the upcoming superstars of international poker.
We've already begun to transition into the good news there, so let's continue.
Day 2 was highlighted by some great table matchups that kept things interesting when the split pots started to lull the action. All the way in the corner, a trio of poker's royalty assembled for several hours of play. It was quite a showcase of luminaries with Hall of Famers Linda Johnson and Mike Sexton, and Jan Fisher (a member of the Women's Poker Hall of Fame) all sitting around the same side of the oval. The three of them were mostly responsible for the creation of PokerGives.org, a charitable poker-based fund raiser — among many, many other contributions to the game. Needless to say, today's seating assignments provided a friendly and talkative reunion for the bunch. Owais Ahmed was in there too, and he was keeping up with the conversation.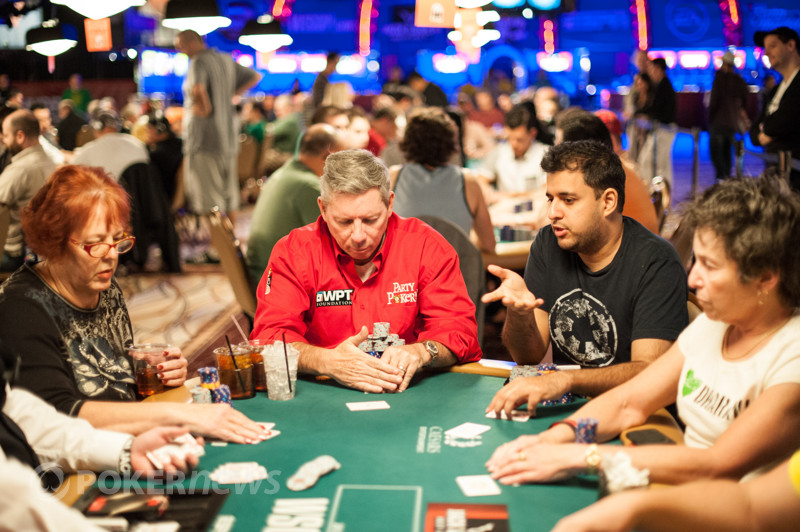 Sexton was in and out, though. He was busy running back and forth between this Stud/8 event and the $3,000 heads-up Event #3 where he was picking his way deftly through Day 2. Sexton defeated Justin Bonomo and Andy Seth in consecutive matches this afternoon, each time returning to the Stud/8 felt to work on that stack. The multitabling ended eventually, though, as Andy Frankenberger reduced Sexton to just one chip stack over here on our side of the room. Sexton was the runner-up to Chris Viox in this event last year, and he's poised for another trip back to this final table in 2012.
Also seated together for much of the day were brothers Michael and Robert Mizrachi. Michael held the second biggest stack coming into Day 2, and he treaded water for a long time to finish with 110,000 chips. Robert was not so lucky, though. A late-night run-in with Todd Brunson relieved him of all his chips and sent him off with a small paycheck for his efforts.
Next door, one more fantastic matchup. And another Hall of Famer. Marsha Waggoner is a member of the Australian Poker Hall of Fame, and she drew a seat on the direct left of her countryman, David Steicke.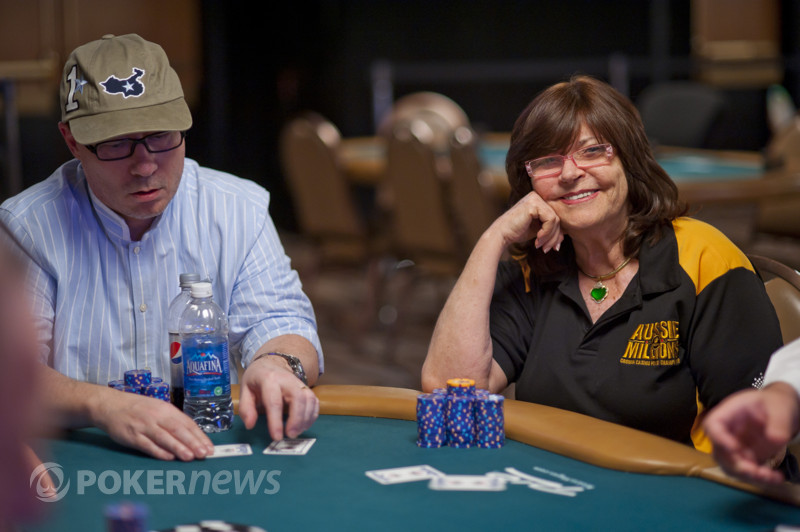 The two played a few pots together before Steicke was cut down, but Waggoner staved off elimination for the rest of the night. She finished with 77,500 chips in her bag, and she's one of four women remaining in our field. In addition to the Waggoner, Liu, Johnson (175,000), and Bonnie Rossi (57,000) will all have their shots at snagging an open bracelet for the ladies before this time tomorrow.
Speaking of tomorrow, this event is shaping up to be an early can't-miss at the WSOP. We've already touched on some of the remaining field, but we haven't even talked about double bracelet winner and 2010 WSOP Player of the Year, Frank Kassela. (He's the WSOP's all-time leading Stud/8 casher, just for good measure.) And then there's Chris Bjorin, the two-time bracelet winner and serial casher. And 2011 bracelet winner and Players Championship final tablist, Owais Ahmed. Are you seeing a theme here? Jerrod Ankenman has a bracelet. So does John Monnette. And David Singer. As well as Todd Brunson. Frankie O'Dell has two of his own, both in Omaha/8. Adam Roberts: Stud bracelet. And you can't forget about Cory Zeidman who narrowly missed winning a bracelet in this same event last year.
See what we mean? The 23 survivors will be back here tomorrow at 2:00pm to finish this thing off. We'll be back here too, and we hope you'll join us as we crown another bracelet winner in this young summer. It's shaping up to be a good one.
Until then, all that's left is goodnight!