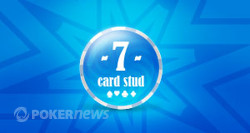 While most of our readers are familiar with the big-bet games in poker like No-Limit Hold'em and Pot-Limit Omaha, today's Event 4: $1,500 Seven Card Stud Hi-Low 8-or-Better will be played in a limit format and one some people may not be acquainted with.
Seven Card Stud is the most popular version of stud poker and generally played anywhere between two and eight players at a time. Seven Card Stud Hi-Low 8-or-Better is a split-pot variant of that game and the one that's featured in today's 5:00 PM event, an event won by Chris Viox in 2011, and an event won by Phil Ivey back in 2002.
If a player stays in until the end of a hand, he or she will receive a total of seven cards. To start, each player is dealt two cards face down followed by a third card face up. Each player would then receive three more cards face up followed by the seventh and final card face down. There is a betting round after each street and often an ante before anyone receives any cards.
To become more familiar with the action, the betting rounds and all things Seven Card Stud, head over to the PokerNews Poker Rules: Seven Card Stud page and check things out. Once you're ready to test your skills on the felt, you can **play poker online by checking out one of our many PokerNews offers.
For some more information on Seven Card Stud, along with other mixed games, check out our Learning Mixed Games with Ville Wahlbeck article. There is also a Strategy with Kristy podcast featuring Chris George where he discusses mixed games with Kristy Arnett that includes some Seven Card Stud talk, so be sure to check that out as well.
**Legal restrictions apply