Jeffrey Manza Eliminated in 8th Place ($58,874)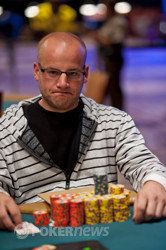 The last hand of Jeffrey Manza's tournament played out over several minutes and this is how it went down. Dung Nguyen opened it up to 70,000 preflop and Jeffrey Manza three-bet in the small blind. Nguyen contemplated the call as Manza said, "You know, folding is an option." Not for Nguyen though, as he made the call and the dealer readied three cards.
Flop:



Manza led for 150,000 here and Nguyen raised it to 350,000. Manza then made it 550,000 to go. As Nguyen thought what to do, Manza said, "Are you going to double me up?" Nguyen then moved all-in, putting Manza to a decision.
"If you weren't so bad i wouldn't even be thinking about calling," said Manza as he thought hard. Eventually he decided to make the call and was at risk with his


behind Nguyen's


. The turn and river changed nothing and it was all over in eighth place for Manza.