Event 35: $2,500 Mixed Hold'em
Tage: 1
Event 35: $2,500 Mixed Hold'em
Tag 1 beendet
Level 8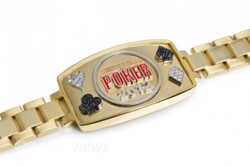 Day 1 has come to a close here at the Rio with Andre Akkari and his 108,700 bagging the most chips. A field of 393 players came in today and only about 85 came out the other side. Last year saw Matt Matros take home the gold bracelet. This year someone else will take their seat on the throne; Matros was eliminated early on and won't be defending his title.
The field looked extremely promising and consisted of poker's best, but as the day wore on players dropped to the wayside. Daniel Negreanu, Antonio Esfandiari, Scott Seiver, Jean-Robert Bellande, Barry Greenstein, Chad Brown, David Sklansky, Jeff Madsen and John Juanda were all eliminated.
Despite the many notable eliminations, a handful were able to take advantage of the field and thrived. David Williams took control of every table he was moved to and spent his day acquiring chips.
Phil Ivey spent the afternoon and early evening competing in Event 32: $10,000 H.O.R.S.E. and the rest of his evening competing over here. Despite a little set back early Ivey finished the day with 37,500.
Other players who we will see on day two are Huck Seed, Bryan Devonshire, and Dan Harrington.
Of those returning, only 45 of those will be getting paid and only one person will be awarded a bracelet. Who will make it to Day 3? Find out here at PokerNews tomorrow starting at 2:00 PM when all the competitors will be coming back to fight it for poker glory.

Spieler
Chips
Fortschritt

Andre Akkari

108,700

48,700

Team Pro

Michael Malm

92,300

David Williams

81,400

9,400

Team Pro

Frank Kassela

72,800

-1,200

Isaac Baron

71,000

9,900

Salman Behbehani

69,000

60,500

Ray Sumon

65,900

Bryan Devonshire

65,300

24,300

Randy Haddox

62,000

James Dempsey

60,500

30,500

William Klein

60,100

Guang Lu

58,900

John MacDonald

57,000

Joep van den Bijgaart

56,800

Brent Wheeler

55,400

Andrey Zaichenko

49,900

-1,100

Huck Seed

49,200

3,200

Chad Davis

48,100

Nicholas Derke

48,000

Leonid Bilokur

47,900

1,900

Konstantin Puchkov

45,000

Michael Foti

44,000

Joshua Chait

43,000

Michael Levine

42,800

Steven Goldberg

42,500
Level 8
The tournament staff has just announced that the field will play six more hands at each table and then bag and tag for the night.
It was three to a flop, and it ran out



. Jeffrey Lisandro bet out and was called by a player in middle position, a player in later position made the call and was all in.
The

on the turn saw another bet from Lisandro and a raise from the middle position player. Lisandro made the call and the

made its way to the river. Both remaining player checked and cards were tabled.
Lisandro:



Middle Position:



All In Player:


Lisandro won the side pot, and chopped up the main pot with the all in player.
Spieler
Chips
Fortschritt

David Williams

100,000

5,000

Team Pro

Frank Kassela

74,000

66,000

Isaac Baron

61,100

54,100

Brandon Steven

52,000

39,000

Andrey Zaichenko

51,000

22,000

Leonid Bilokur

46,000

27,000

David Baker

45,000

19,000

Joe Serock

44,500

31,100

Richard Brodie

43,500

2,500

Phil Ivey

40,000

4,000

Shannon Shorr

38,200

22,200

James Dempsey

30,000

-11,000

Gabriel Nassif

28,000

Team Online

Erik Cajelais

26,000

8,000

Michel Abecassis

24,000

4,000

Huck Seed

23,000

7,000

Todd Witteles

23,000

14,500

Jeff Lisandro

21,000

5,500

Jeremy Kottler

18,000

Benjamin Scholl

12,000

Marco Traniello

10,000

2,500

Noah Schwartz

9,000

-14,000

John Myung

5,500

-2,500

Taylor von Kriegenbergh

Ausgeschieden
No Limit Hold'em
The flop read



and David Williams nonchalantly threw out a bet of 1,8000 after his opponent checked. Williams was partaking in a conversation with his table-mates and just pushed out the bet not missing a beat. Williams' opponent made the call and we were off to the turn.
The

on fourth street saw another check from Williams' opponent and a bet of 3,3000 from Williams himself. Another call was made and one more card was going to be exposed.
The

that landed on the river prompted Williams' opponent to take his time before placing a bet of 4,200. Williams took a few moments before measuring out a stack of oranges and placing a raise of 15,500. Williams' opponent instantly folded and the raiser took down the pot.
Level 8
Event 35: $2,500 Mixed Hold'em at the 2012 World Series of Poker attracted 393 players. The field generated a prize pool of $894,075 and the top 45 spots will earn a min-cash worth $4,229. Making the final table will earn each of the nine competitors $16,692 and there's $210,107 up top for the winner.
To view the entire list of payouts, please head to the Payouts Page for this event.
Level: 8
Blinds: 0/0
Ante: 0
Limit Hold'em
From under the gun, Hiren Patel raised. Action folded around to Andrey Zaichenko in the hijack seat and he made the call. Everyone else folded and the flop came down



. Patel bet and Zaichenko called.
Fourth street was the

and Patel bet. Zaichenko called and the

landed on the river. Patel bet and Zaichenko folded after a minute or so of thought.