Fischman Hooks Two Fish to Triple Up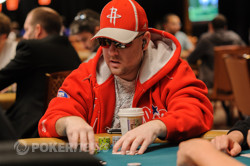 Scott Fischman was short and in need of making something happen. He'll be very happy to triple up then through two players who admitted to playing their hands very badly.
There was a raise to 200 from early position and a call from Robert Williamson III on the button before Fischman three-bet all-in for 675 more. Both players called and when they drew two and Fischman stood pat, the following conversation happened:
"I played this hand so bad!" said the raiser.
"I played it worse," responded Williamson III.
"I played it great," said a chirpy Fischman.
The action was checked and Fischman opened





and scooped.
"Someone needs to remove this tattoo from my head!" joked Williamson III who was holding up an "L" for "Loser" finger sign to his forehead.