Congratulations to Brent Hanks, Event #2 $1,500 No-Limit Hold'em Champion ($517,725)
Level 29 : 40,000-80,000, 10,000 ante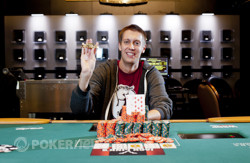 The poker purists couldn't have dreamed for a better final table for our first top tier WSOP bracelet event of 2012. WSOP bracelet holders Vanessa Selbst, JP Kelly and Andrew Badecker all making sure that our lips remained moist by securing their berths. But after the cards had stopped flying and the chips stopped riffling it was only fitting that Brent Hanks was the man who had to find a security box for his new piece of gold. Hanks has made three previous WSOP final tables, but until today his pan always remained devoid of gold, so our congratulations are with him in his moment of glory.
If you were wondering how to squeeze 2,101 players into three days of poker then Event #2 $1,500 No-Limit Hold'em had all of the secret ingredients. We started Day 3 with 15-players but were down to the final table of 9 within the blink of an eye, and it was all of the inexperienced players who fell by the wayside.
When the final table started all eyes were on the WSOP gold bracelets owners and it was JP Kelly who had the roughest ride of the three. The infamous British rail was back and they hollered and cheered irrespective of whether JP Kelly won or lost! JP Kelly doubled up Abdyl Konjuhi, cracked the aces of Andrew Badecker, was crippled my Michael Kaufman, quadrupled up and then finally left the building after being eliminated by Brent Hanks in 8th place.
Vanessa Selbst was searching for her second bracelet and after eliminating Michael Kaufman in 7th place she became the chip leader. No sooner did everyone think Selbst would go on her usual dominating march, Brent Hanks pulled her back after a blind battle where Hanks hit a full house at the same time that Selbst hit a straight. Not only did Selbst slip from the top spot but also it was a tournament defining hand for Hanks.
Heading into Level 26 and it was Hanks, Selbst and Bazeley who each had over 2 million in chips. Hanks and Selbst were very active but Bazeley seemed somewhat card dead. Brent Hanks then became the first player to reach 3 million chips when he eliminated Abdyl Konjuhi in 6th place, Bazeley found a hand and reduced Selbst to the short stack and Andrew Badecker stepped up to the plate with the eliminations of Ryan Schmidt in 5th place the dangerous Vanessa Selbst in 4th place.
So into three-handed play it was Badecker with all the chips, all the momentum and all the experience of finishing off WSOP final tables. But who cares if you river a boat against an opponent holding a higher boat! Jacob Bazeley holding


on a board of





against the


of Badecker. The dust had still not settled on that hand when Badecker was out in 3rd place. He got it all-in holding


and Hanks woke up with


to set up the heads-up battle.
It was even-steven going into heads-up and for several hours of heads-up action there was still no separating them. It was always going to come down to one monumental all-in pre flop encounter and when it happened Bazeley was the favourite to take home the WSOP gold. Brent Hanks raised to 160,000, Jacob Bazeley three-bet to 420,000, Brent Hanks four-bet to 780,000, Jacob Bazeley five bet jammed all-in and Brent Hanks made the call. It was Bazeley and his


versus Hanks and his


. Bazeley was just five cards away from his dream title but the deck had a different destiny in mind. The

on the flop handing Hanks the winning hand but he would have to wait a little bit longer for his moment of glory as Bazeley was left with some chip dust. The inevitable ending happened in the very next hand when the


of Hanks beat the


of Bazeley and Hanks was crowned Event #2 $1,500 No-Limit Hold'em champion!