Crushing Hand: Strickland v Smith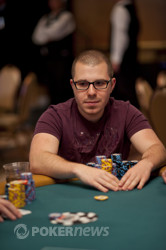 Poker is a game that combines both skill and luck and it is this wonderful combination of elements that make the game so exciting. This tremendous concoction means that even the very best players cannot win all of the time. When they do win all of the time it is known in the game as a heater, and that is exactly what Dan Smith is going through at the moment.
Smith has already won $1,748,942 in 2012 alone, including three $5,000 side events at the EPT Grand Final in Monte Carlo earlier this month. So with the first major event of the WSOP underway it is no surprise to see Smith in the final 48 panning for gold.
Heater or no heater, Smith is going to have to focus on his recovery after losing a huge point to Kenneth Strickland. JP Kelly told us that Strickland limped into the pot before calling a Dan Smith raise. The flop was



and Strickland moved all-in. Smith called instantly and had Strickland crushed.
Turn:

Dan Smith was just about to become our chip leader.
River:

Ouch! A stunned silence permeates around the table and Smith takes the whole think like the champion he is. Strickland now has 410,000 and Smith is down to 130,000.
Spieler
Chips
Fortschritt

Kenneth Strickland

410,000

331,800

Dan Smith

130,000

-152,000