Event Info
| | |
| --- | --- |
| Preispool | $702,975 |
| Players | 309 |
Level Info
| | |
| --- | --- |
| Level | 28 |
| Limits | 50,000 / 100,000 |
| Ante | 10,000 |
Brandon Cantu had the bring-in and then called a completion from Don Zewin, who you may recall finished ninth in this very event back in 2009. When he took the lead on the turn, Cantu bet and it was Zewin's turn to call. Cantu kept the lead for the remainder of the hand and bet every street. Zewin came along and after he called seventh, Cantu said, "Nine."
"Nine what?" the soft-spoken Zewin asked. Cantu showed a 9-8 and it was good enough.
Zewin: (x-x) /




/ (x)
Cantu: (x-x) /




/ (x) (



)
| | |
| --- | --- |
| Scott Fischman | / / |
| Phil Hellmuth | / / |
| Don Zewin | / (FOLDED) |
Zewin completed, and both Fischman and Hellmuth called. Hellmuth led out on fourth street, and only Fischman called. Fischman called another bet on fifth, both players checked on sixth, and Fischman checked again on seventh. Hellmuth bet, and Fischman went into the tank.
"You would never try to bluff here," Fischman announced. "Because I always call."
Fischman folded, and Hellmuth fanned



for for an eighty-six. Fischman mucked.
"I finally folded," Fischman exclaimed. "And I was right!"
He gave a sarcastic whoop while Hellmuth raked in another pot.
Phil Hellmuth completed with his

and found a caller in Brandon Cantu, who was showing

. Hellmuth proceeded to bet every street, and Cantu called through sixth. On seventh, Cantu tanked over the bet and Hellmuth informed him, "You could have been drawing dead."
Cantu: (x-x) /




/ (x) (



)
Hellmuth: (x-x) /




/ (x-x)
Cantu thought for a few moments more and made the call. "Ten," Hellmuth said for a 10-9 low. Luckily for Cantu, his 10-7 was better.
Don Zewin completed with a

and was met with a raise by Phil Hellmuth. Zewin made the call and then bet on the turn, which Hellmuth called. From there, Zewin check-called bets on fifth and sixth street, but then check-folded on seventh. It was a good thing he did as Hellmuth showed his hand.
Hellmuth: (x-x) /




/ (x) (



)
Zewin: (x-x) /




/ (x)
Interestingly, this isn't the first time Hellmuth and Zewin have met. Back in 1989 when Hellmuth won the Main Event, he defeated Johnny Chan in heads-up play. The man who finished third in that event . . . Don Zewin.
| | |
| --- | --- |
| Scott Fischman | / / |
| Phil Hellmuth | / / |
We caught up with the action on fourth street, where Fischman led out. Hellmuth called. Fischman led out on fifth, sixth, and seventh, and Hellmuth called him down. Fischman fanned



for a jack-low, but Hellmuth was best with



for a ninety-seven.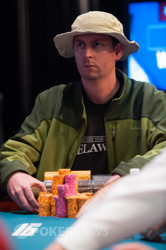 Brandon Cantu completed with a

, Brendan Taylor raised with an

, and Taylor re-raised. The rest of the chips got in, and the hands were opened.
Taylor:


/


Cantu:


/

Both players were dealt paint on fourth street - Cantu a

and Taylor a

- and both players received a

on fifth. Cantu improved with a

on sixth, Taylor received more paint (

), and Cantu turned over a

on seventh. We missed Taylor's last card, but he mucked, and exited the tournament in fifth place.
Level:

24
Limits:

20,000/40,000
Ante:

5,000
Brandon Cantu completed with a

only to have Brendan Taylor raise with a

. Cantu thought long and hard before making the call. With the lead, Cantu bet the turn and Taylor called. The latter then check-called a bet on fifth street before pairing and folding on sixth.
"Whew," Cantu said as he showed his hole cards . . .


.
Taylor: (x-x) /





Cantu:


/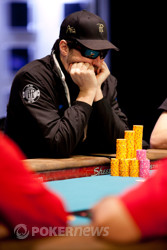 Phil Hellmuth:


/




/


Brendan Taylor:


/




/

Taylor completed with a

, Hellmuth called with a

, and both players were dealt a

on fourth. Hellmuth check-called a bet. Taylor led out on fifth, sixth, and seventh, and on seventh, Hellmuth ripped off his glasses.
"I think I'm supposed to raise," Hellmuth announced. "But I just call. I caught a seven."
Hellmuth fanned



for a seventy-four, and all we saw from Taylor's hand was


. Hellmuth pulled in the monster pot, and is starting to pull away.