Update on Team PokerStars Pros
Level 14 : 1,500-3,000, 400 ante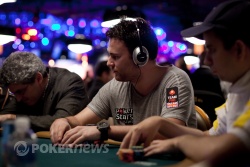 We are late into the day here on Day 3 of the 2011 World Series of Poker Main Event with just one level left. There are still plenty of Team PokerStars Pros remaining. Sebastian Ruthenberg from Germany has 670,000 in chips and JP Kelly has 385,000. Humberto Brenes from Costa Rica has 150,500 and Vanessa Rousso is continuing to build her stack up in Day 3 with 225,000 chips. Dennis Phillips has chipped up to around 110,000 in chips. The field has shrunk to just over 1,000 and all players have been moved to the Amazon room.
Daniel Negreanu has been seated at the feature table for the day and has built his stack up to 261,700. Some Pros, however, have been dealt their last hand of the Series. Jason Mercier, Tom McEvoy, Joe Cada, Noah Boeken, and Victor Ramdin have all been eliminated today.
Check out the PokerStarsBlog.com to see a video with Ramdin and a feature on Kelly. Be sure to keep your browsers refreshed on PokerNews.com for all the latest action and on the PokerStarsBlog.com to for more in-depth coverage of your favorite PokerStars Pros.