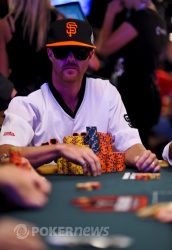 In middle position, Ryan Lenaghan opened to 110,000, and Bryan Follain three-bet to 355,000 a couple seats over. When it came back to Lenaghan, he asked how much his opponent was playing, a number that would end up factoring into the hand in the end -- 4 million straight. Lenaghan reraised to 865,000, and Follain didn't delay too long before he announced, "One point two," on a five-bet. Lenaghan double-checked his cards, and he very quickly announced an all in with his massively covering stack putting the pressure on. Follain was still in the middle of counting out the bet he'd made, and he froze dead in his tracks and fumbled the chips into the pot. He was clearly a bit shaken by the decision facing him, and he'd go on to spend the next several minutes struggling over it. With 2.2 million chips in the pot, he only had 1.8 left behind. Follain stood up, took a quick lap around behind his chair, then sat down and rubbed his forehead beneath his hat. "Dude! Come on!" he lamented. Finally, he stood up and announced, "All right, I had fun, I call!" He was at risk, and the largest pot of the tournament was heaped in the middle of the table and up for grabs.
Showdown
Lenaghan:



Follain:


There were a few quizzical looks exchanged around the rail as some expected to see stronger hands than that turned up. Regardless, it was a flip, and Follain was clearly the one doing most of the sweating. He jumped up and down like a boxer, pleading for help while Lenaghan sat calmly in his seat, almost uninterested in the whole thing.
The board ran out





, never fully materializing for Follain. He goes by the name @2011wsopchamp on Twitter, but his dreams of winning WSOP gold have been put on ice until at least later this fall in Cannes.
Lenaghan has his sights set on this bracelet right here. That knockout gives him a huge chip lead now, sitting pretty atop the counts with at least 12.3 million in his massive castle.
| | | | | | |
| --- | --- | --- | --- | --- | --- |
| Ryan Lenaghan | | | | 12,300,000 | 4,200,000 |
| Bryan Follain | | | | Ausgeschieden | |