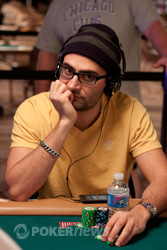 Yesterday a total of 2,890 runners turned the Pavilion Room into the killing fields, with waves of players falling every hour. The bustouts occurred with staggering frequency, and the tournament director noted at one point that eliminations were occurring at a pace of 5 per minute. The threshold for making the money was very nearly reached, a notion that was unthinkable at the start of the day. When the dust had settled, only 304 players had survived the massacre with their stacks intact. The chip leader heading into the second day of play is Jon Lane, who managed to accumulate a massive stack of 141,600.
In a tournament that has often been termed a donkament due to its large, inexperienced and amateur-heavy field, Event # 45 has seen the wolves emerge from their dens. Antonio "The Magician" Esfandiari navigated obstacle course of Day 1 and climbed to 70,300 chips.
The Poker Brat himself, Phil Hellmuth (25,600), will also be on hand, trying to continue his surge towards the WSOP Player of the Year title. With two 2nd place finishes in this year's series to his credit, Hellmuth is playing the best poker he has in years, and we expect him to make another strong run here today.
Matt Graham (30,000), Jean-Robert Bellande (21,000), and Blair Hinkle (27,400) are among the other notable names still in contention.
With the money bubble set at 297th place, Day 2 will begin on the proverbial money bubble. The big stacks will be looking to punish their hesitant opponents and build an arsenal to propel them to a deep finish. Many players, including amateurs and first-time competitors, will be desperately clinging to their chips in an effort to earn a highly prized WSOP cash.
Check in with PokerNews throughout the day to follow all of the action, as Esfandiari, Hellmuth and a small band of outnumbered pros look to ward off an onslaught of ambitious amateurs.