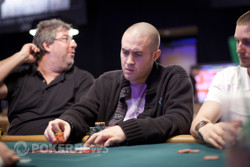 The first level of play for the day started off quite slowly. The Pavilion room is packed with players seated ten to a table in three full sections. The action is off to a slow start as some players are still finding their way to their seats.
There are some notable players scattered across the room who have run well so far at this World Series. Jordan Young is one of them who had already cashed in three events (Event #8: No-Limit Hold'em, Event #18: No-Limit Hold'em, Event #24: No-Limit Hold'em Shootout). He is looking to make it three cashes in a row with this event. Another notable is Allen Kessler who came in 2nd place in Event #15: Pot Limit Hold'em last week.
The field is continuing to grow and players have until the end of level four to register to play. Right now we have over 2,000 players registered.