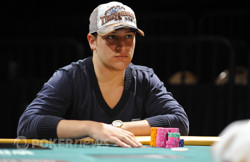 In one of the very first hands of the new level, we've got an all in.
Gus Hansen got his last 259,000 into the middle with


, and Marafioti was racing with the covering stack and the


.
Hansen was very much a fan of the board as it ran down





to keep him afloat. He's doubled up his first stack to over 500,000, knocking Marafioti down under 300,000. As the dealer was shuffling for the next hand, Marafioti cashed in both add-on chips to take 800,000 more fightin' chips. He's got just less than 1.1 million in front of him now.