€1,100 High Roller
Tage: 2
Level: 20
Blinds: 15,000/30,000
Ante: 30,000
€1,100 High Roller
Tag 2 beendet

Level 19 : 10,000-25,000, 25,000 ante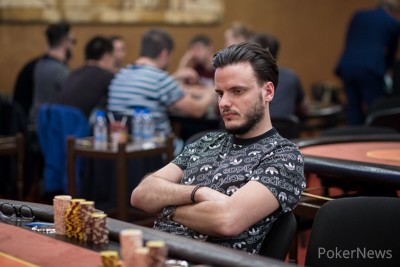 Day 2 is over here in Finix Casino for the 2019 PokerNews Cup High Roller and the schedule have changed a little bit. The initial was to play until the final table of nine is reached, but this happened rather fast so they decided to continue playing until there are six players left.
Seven levels of 45 minutes each and two levels of 60 minutes wrote the story for Day 2, and we had to pass through the money bubble, the final table bubble and a couple of eliminations into the final table for the day to end.
Day 2 started with 37 players taking their seats and nine more entries were added to the field so that the total number of entries was 89. The payout structure indicated that 13 of them will end in the money and Sotirios Koutoupas was the player who busted on the money bubble. The former EPT champ shoved with threes and got called by Andreas Halkiadakis who was holding tens.
After the bubble burst, four more players had to bust before they reach the final table and those players were: Blago Alexandrov (10th - €2,550), Momchil Krastanov (11th- €2,050), Spyridon Michailidis (12th- €2,050) and Ivan Ivanov (13th - €2,050).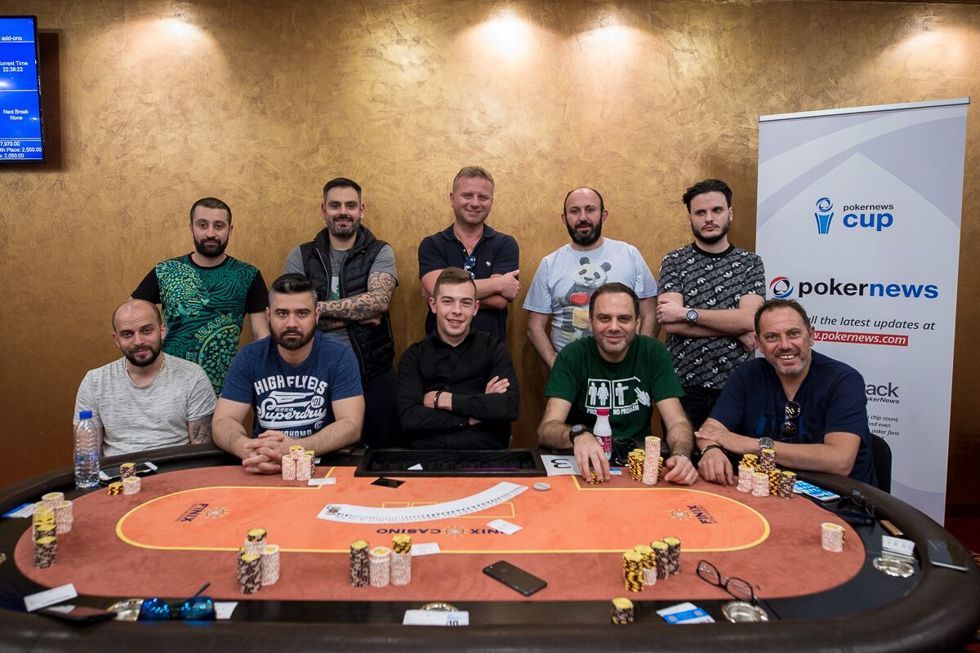 The first player to leave the final table was Konstantinos Nanos who lost with ace-deuce vs Michailidis' ace-king and busted in 9th place for €2,550.
Leonidas Mavidis followed him in 8th place losing with threes against Tzakos' jacks and earned €3,070.
Right before the last elimination of Day 2, Dimitrios Dimitros and Marios Tzakos played a gigantic pot, which was the biggest of the event so far, and left Dimitros with six big blinds to work with during Day 3. Tzakos had kings and Dimitros queen-jack, with all the chips getting in the middle on the turn, where Dimitros had an open-ended straight draw and Tzakos had an overpair. The river didn't help Dimitros and Tzakos wa established as chip leader of the final table.
The last player who left the final table was Andreas Halkiadakis when he fell with ace-queen on Galustov's kings and finished 7th for €3,640.
The chip count of the final table can be found below:
| Seat | Player | Country | Chip Count |
| --- | --- | --- | --- |
| 1 | Polykarpos Stryvakis | Greece | 1,268,000 |
| 2 | Dimitrios Dimitros | Greece | 154,000 |
| 3 | Marios Tzakos | Greece | 2,126,000 |
| 4 | Marcel Galustov | Bulgaria | 1,973,000 |
| 5 | Dimitrios Michailidis | Greece | 1,986,000 |
| 6 | Loukas Kioutsoukis | Greece | 1,394,000 |
The action will resume on May 16st 2019 as of 3 p.m. local time with 06:29 left in level 19 at blinds of 10,000/25,000 with a big blind ante of 25,000.

Level 19 : 10,000-25,000, 25,000 ante
Spieler
Chips
Fortschritt

Marios Tzakos

2,126,000

1,556,000

Dimitrios Michailidis

1,986,000

1,051,000

Marcel Galustov

1,973,000

1,593,000

Loukas Kioutsoukis

1,394,000

34,000

Polykarpos Stryvakis

1,268,000

-282,000

Dimitrios Dimitros

154,000

-1,046,000

Level 19 : 10,000-25,000, 25,000 ante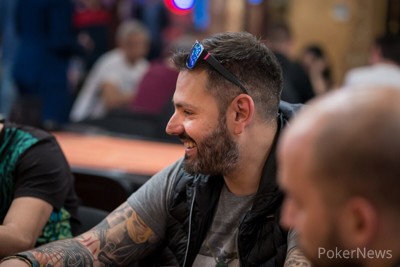 Dimitrios Dimitros opened to 65,000 from early position, Marcel Galustov three-bet to 134,000, and Andreas Halkiadakis shoved from the next seat for 500,000. Dimitros folded and Galustov snap-called.
Galustov:



Halkiadakis:


The board came





and Halkiadakis left the field 6-handed.

Level 19 : 10,000-25,000, 25,000 ante
The biggest pot of the High Roller so far just took place between Marios Tzakos and Dimitrios Dimitros. One player catapulted to the chip lead and the other was left crippled with only four big blinds.
It all started with Dimitros raising to 60,000 from under the gun and Marios Tzakos opted to three-bet for 225,000 from the next seat. The rest of the table folded and Dimitros made the call, with the players going to a



flop.
Dimitros check-called a bet for 250,000 and the

felt on the turn. Marios Tzakos announced all-in for 528,000 after his opponent's check, and Dimitros thought about it a couple of minutes and finally called.
Dimitros:



Tzakos:


Dimitros was drawing to six outs to eliminate Tzakos and earn the chip lead, and the

wasn't one of those. After this massive pot he was left with 100,000 and Tzakos has more than two million chips!

Level 19 : 10,000-25,000, 25,000 ante
Leonidas Mavidis was left with 12 blinds and he shoved with threes, with Marios Tzakos calling him with jacks.
The board didn't change Tzakos' advantage and seven players continue to the final table.

Level 19 : 10,000-25,000, 25,000 ante
Konstantinos Nanos is the first player that busts after the field reached the final table. We found him in the rail and he explained us a really weird situation that happened in his final hand.
The dealer was dealing cards to the players and the first card hit his hand and opens on the table. It is the

and the dealer shows it to all players and continues dealing, giving Nanos a new card.
When the dealing is done, Dimitrios Michailidis opens and Nanos knew how aggressive Michailidis is, so he watches only the second card that the dealer gave him and it was the

. He decides to shove without seeing his second card and Michailidis snap calls with ace-king.
Nanos is disappointed when he sees that his other card is a deuce, thinking that he would have pocket aces if the first didn't open on the table! When the board was opened, Nanos had lost and left the High Roller in 9th place.

Level 19 : 10,000-25,000, 25,000 ante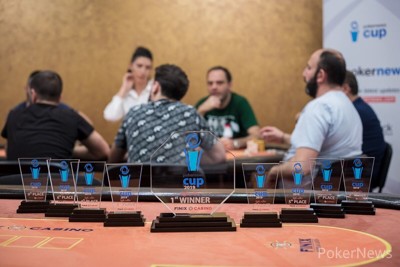 The final table just began and those are the trophies that the nine players will hunt.

Level 19 : 10,000-25,000, 25,000 ante
Blago Alexandrov is the player who left in 10th place and sent the remaining players to the final table.
He shoved with ace-jack and Dimitrios Dimitros called with his sixes, spiking a six on the turn to make things even easier.
Nine players are left and right now the final table is getting ready. We had a slight change of plans, since the players will continue playing despite reaching the final table. They decided to reduce the length of the final day so they will play up to two more levels today or until there are six players left, whatever happens first.