Spieler
Chips
Fortschritt

Jean Double

189,400

Robinson Carnero Quirouga

187,100

Shaun Sheffield

181,700

Gasperino Nicolas

158,300

Daniel Trotta Borges

139,200

Casio Pisapia

136,100

Eduardo Fernandes

135,700

Fraser Macintyre

128,500

Mayu Roca Uribe

128,100

Juan Gonzalez Venzano

127,400

Rodrigo Alejandro Perez

123,900

Rumen Ivanov Nanev

121,900

Daniel Negreanu

121,700

Team Pro

Jorge Pereira

113,700

10,000

Patrick Mahoney

109,500

Alexandre Nudelman

106,500

Francisco Paolo Conte

104,900

Rodolfo Awad

103,100

Jose Hernan Pedicome

102,900

Felipe Morbiducci

102,100

Julio Alberto Grimau

100,600

Jose Nadal

100,300

Elio Fox

99,700

Ricardo Nakamura

99,100

Caio Cesar Pimenta

98,500
Level 10 : 600-1,200, 200 ante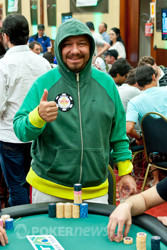 367 Spieler gingen gestern an den Start des PokerStars.net LAPT Grand Finals. Am Ende des Tages war es Jean Double, der als Chipleader seine 189,400 Chips verpackte. Dicht auf den Fersen ist ihm Shaun Sheffield mit 181,700.
Natürlich waren auch die lateinamerikanischen Team PokerStars Pros gut vertreten. Humberto Brenes startete am selben Tisch, wie sein Sohn Roberto. Angel Guillen und Christian de León mussten sich beide am Tag 1 auch schon wieder verabschieden. Auch mit dabei warenNacho Barbero, Leo Fernandez, Gualter Salles und Andre Akkari.
Salles' verlor seine letzten Chips gegen Ende des Turniertages und gesellte sich damit zu Eugene Katchalov, Juan Manuel Pastor, Matthias De Meulder und Fatima Moreira de Melo.
Doch vier Team Pros sind noch gut im Rennen. Daniel Negreanu hatte einen produktiven Tag und verpackte am Ende 121,700 Chips. Humberto Brenes beendete den Tag mit einem Stack von 59,000, Leo Fernandez mit 41,700 Chips und Nacho Barbero überlebte den Tag mit 59,000 Chips.
Spieler
Chips
Fortschritt

Jean Double

189,400

Shaun Sheffield

181,700

Gasperino Loiacono

158,300

Daniel Negreanu

121,700

64,100

Team Pro

Patrick Mahoney

109,500

Jorge Pereira

103,700

-21,300

Elio Fox

99,700

-21,300

Bill Gazes

44,000

15,000
Level 10 : 600-1,200, 200 ante
With just about 15 minutes left in the last level of the day, the clock has been paused and the tournament staff has announced that each table will play six more hands before bagging and tagging for the night.
Eugene Katchalov verlor gerade mit


gegen Jorge Pereira's


.
Spieler
Chips
Fortschritt

Eugene Katchalov

Ausgeschieden

Team Pro
Eric Levesque setzte seine letzetn Chips auf


versus


.
Board: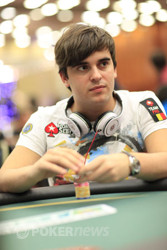 wir haben wieder zwei shortstacked Team PokerStars Pros verloren.
Level: 10
Blinds: 600/1,200
Ante: 200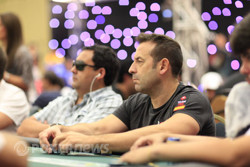 It's just dawned on us that we haven't spotted Juan Manuel Pastor since we returned from the break. The seat he was occupying now contains someone else entirely, and we presume that the Spaniard has been relegated to the rail here during the waning stages of this Day 1.