€10,300 EPT High Roller
Tage: 3
€10,300 EPT High Roller
Tag 3 beendet

Level 28 : 50,000-100,000, 100,000 ante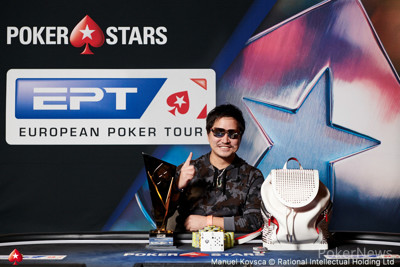 A year after finishing runner-up in a €25,000 Single Day High Roller here at the PokerStars European Poker Tour Prague, Tsugunari Toma obviously had a goal in mind when returning to the Czech capital this year.
And, after winning a €10,200 Single Day High Roller earlier in the festival for €135,220, he added victory in the prestigious three-day €10,300 High Roller for a further €523,120, bringing his total cashes at the festival to over $650,000.
Runner-up Simon Lofberg came into the day as chip leader, but the Swede would have to settle for second place out of a field of 255 entries and a payday of €352,230
PokerStars European Poker Tour Prague €10,300 High Roller
| Place | Player | Country | Payout (EUR) | Payout (USD) |
| --- | --- | --- | --- | --- |
| 1st | Tsugunari Toma | Japan | €523,120 | $583,054 |
| 2nd | Simon Lofberg | Sweden | €352,230 | $392,585 |
| 3rd | Simon Pedersen | Denmark | €248,340 | $276,792 |
| 4th | Matthias Eibinger | Austria | €201,340 | $224,408 |
| 5th | Yunye Lu | China | €159,290 | $177,540 |
| 6th | Gianluca Speranza | Italy | €120,950 | $134,807 |
| 7th | Masato Yokosawa | Japan | €88,300 | $98,417 |
| 8th | Rainer Kempe | Germany | €64,560 | $71,957 |
| 9th | George Wolff | United States | €53,430 | $59,551 |
Final Day Recap
Just 17 players remained heading into the final day, but the two table redraw was reached almost immediately after the elimination of Thi Nguyen. Start-of-day short stack Sam Greenwood was looking for a second High Roller title of his own, but would fall next.
Toma himself started as one of the short stacks, but would double with jacks through Lofberg's tens early in the day. A sign of things to come?
Masato Yokosawa's spell at the top of the chip counts was cut short by a resurgent Lofberg, who wasn't afraid of getting involved in pots during a period where the eliminations slowed, and it became apparent that players were more interested in securing a payjump above anything else.
Well-known players Daniel Dvoress and Ludovic Geilich were among those to miss out on a seat at the final table, with Lofberg still in the lead ahead of Matthias Eibinger and Yunye Lu.
Final Table
Although Rainer Kempe sent George Wolff to the rail in ninth, it was Kempe who was out next as Lofberg's stack moved to around 3.5 million seven-handed. However, Eibinger was hot on his heels with the elimination of Yokosawa next as the Austrian's class began to show.
Lu sent Gianluca Speranza to the rail, but it was Eibinger in control, quietly moving above five million in chips with ruthless efficiency. That was until Toma secured a vital double - jacks through tens, just like against Lofberg at the start of the day - and the stacks began to level out.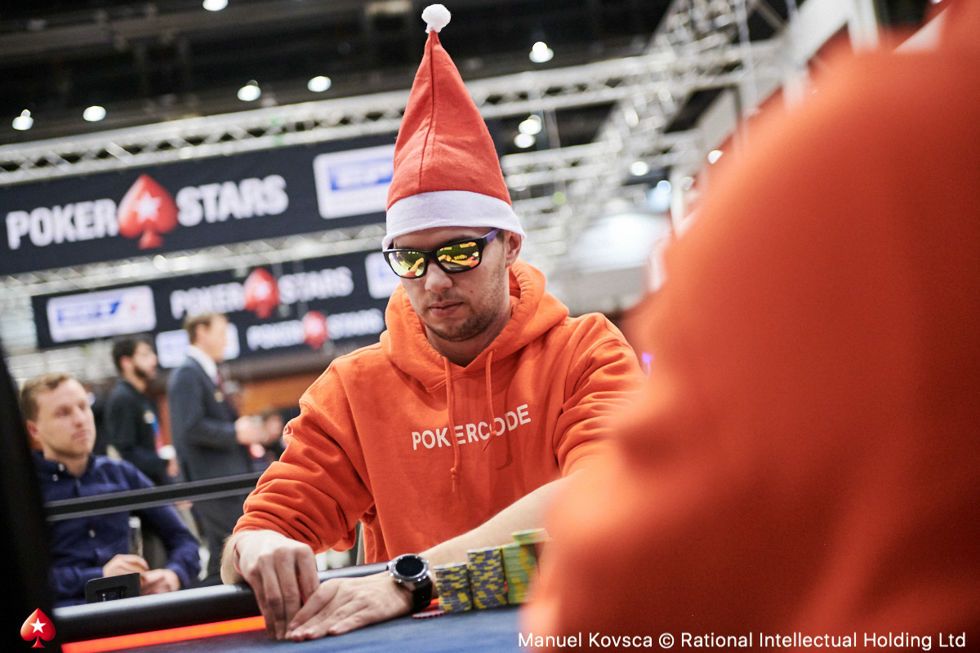 After Dinner
Fed and watered, the five players returned from their dinner break with Toma now in the lead and in control. Lofberg, who had sat in the middle of the pack, moved back to the fore with the elimination of Lu in fifth, while another Simon was preparing a one-two combination to oust arguably the most dangerous player at the table.
First, Simon Pedersen doubled with sevens against king-queen, flopping quads to leave Eibinger drawing all but dead, and he would then make a flush to send Eibinger to the rail in fourth.
There was the briefest discussion of a deal, although it turned out that Lofberg's "trip to the bathroom" was exactly that, and the trio opted to play on.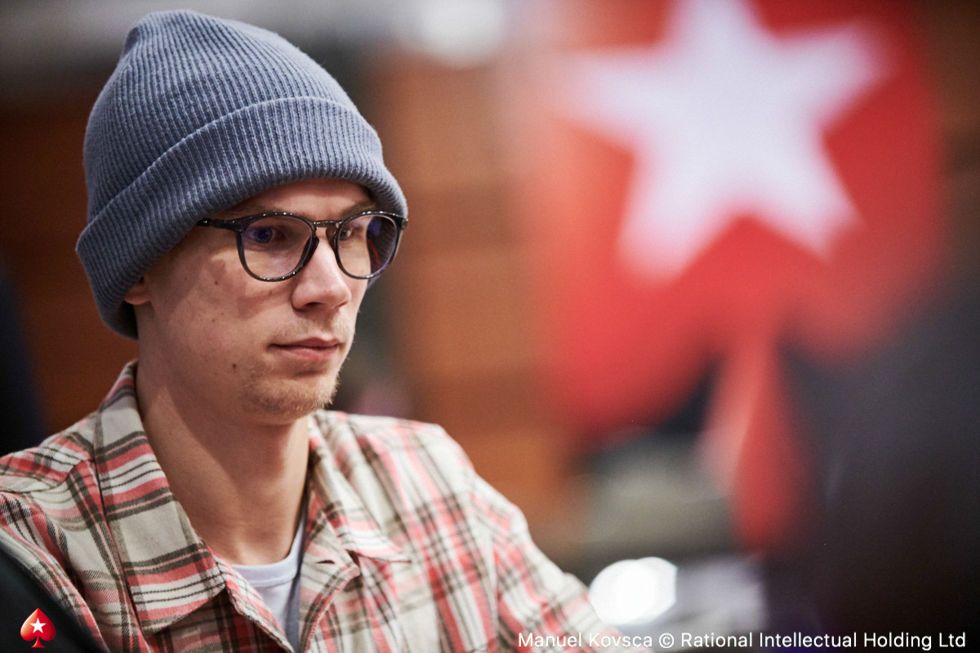 Rapid-fire Finish
The tournament ended in a flurry. First, short-stack Pedersen three-bet shoved jacks into the ace-eight of Lofberg, but an ace on the flop spelled the end for his tournament.
A four-bet shove from Toma on the very first hand of heads-up set the tone for the heads-up, as on the second hand Toma wasted even less time. Three-bet jamming with ace-eight only for Lofberg to turn up with ace-king.
However, an eight on the flop was all it took to hand Toma the lead, and he dodged both straight and flush outs on both turn and river to secure his second victory in a matter of days.
This concludes the PokerNews coverage of the 2019 PokerStars European Poker Tour Prague. Be sure to check out the live updates from all the events covered here, and we look forward to seeing you again at another EPT in 2020!
€10,300 No-Limit Hold'em - Adrian Mateos (€177,500)
€1,100 EPT National - Semen Kravets (€262,309)
€50,000 EPT Super High Roller - Stephen Chidwick (€725,710)
€2,200 EPT National High Roller - Alexandre Reard (€342,810)
€25,000 Single-Day High Roller I - Chin Wei Lim (€378,160)
€25,000 Single-Day High Roller II - Sam Greenwood (€384,968)
€5,300 EPT Main Event - Mikalai Pobal (€1,005,600)
Level 28 : 50,000-100,000, 100,000 ante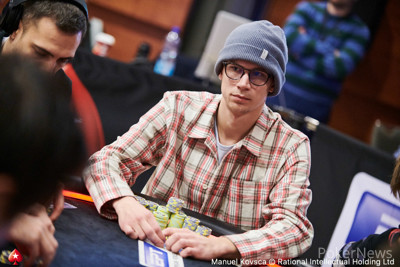 In the first hand of heads-up action, Tsugunari Toma raised to 240,000 on the button. Simon Lofberg three-bet to 875,000 and Toma four-bet shoved all in which got Lofberg to fold.
Following that, Lofberg opened to 225,000 and Toma just ripped all in. Lofberg looked down back at his cards and called off his stack of around 5,500,000.
Tsugunari Toma:



Simon Lofberg:


Lofberg was in a dominating position but the flop of



put Toma in the lead with a pair of eights. The

on the turn gave Lofberg plenty of outs with a straight and flush draw but the

on the river bricked off. The stacks were counted to be sure but Lofberg was forced to settler for second place.

Level 28 : 50,000-100,000, 100,000 ante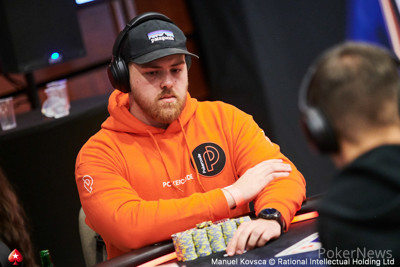 Simon Lofberg opened to 200,000 on the button and Simon Pedersen three-bet all in for 1,585,000 from the big blind. Lofberg asked for a count before calling.
Simon Lofberg:



Simon Pedersen:


There was an ace in the window of a



flop. "That's not good," said Pedersen.
The turn was the

. "Sweat..." said Pedersen.
The river was the

and Pedersen was eliminated.
Level 28 : 50,000-100,000, 100,000 ante
Simon Pedersen limped in from the small blind and Simon Lofberg made it 325,000 to go from the big blind. Pedersen obliged and the flop came



. Pedersen checked to Lofberg who continued for 225,000 and Pedersen called.
The turn was the

and Pedersen check-called another bet of 750,000. The

paired the board on the river and Pedersen checked one more time. Lofberg jammed all in for around 1,500,000 and Pedersen used two time extensions before laying his hand down.

Level 28 : 50,000-100,000, 100,000 ante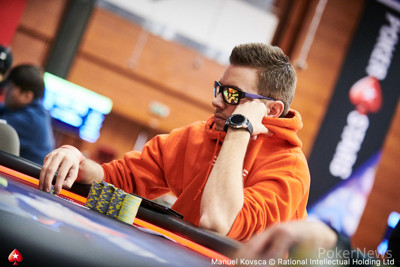 Simon Pedersen opened to 500,000 from the button and called an all in from Matthias Eibinger in the big blind.
Pedersen was all in for 1,330,000 and held


against the


of Eibinger.
The flop came



giving Pedersen quads. The


runout changed nothing and he doubled up.
A short while later, Eibinger got has last 550,000 in with


suited against the


of Pedersen. The board ran out





with Pedersen turning a flush to eliminate Eibinger.
Spieler
Chips
Fortschritt

Tsugunari Toma

6,340,000

500,000

Simon Pedersen

3,300,000

1,920,000

Simon Lofberg

3,100,000

200,000

Matthias Eibinger

Ausgeschieden
Level 28 : 50,000-100,000, 100,000 ante
The action was on Tsugunari Toma in the small blind who announced all in with a short stack behind him. Simon Pedersen was that short stack with just 640,000. Pedersen looked down at his cards and quickly made the call.
Simon Pedersen:



Tsugunari Toma:


The flop came



and Pedersen's king-high was still in the lead. The

on the turn and the

on the river changed nothing as Pedersen doubled up but still remains as the short stack.
Level: 28
Blinds: 50,000/100,000
Ante: 100,000

Level 27 : 40,000-80,000, 80,000 ante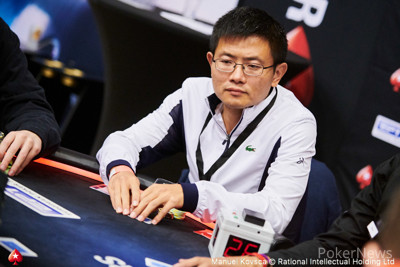 Action folded around to Simon Lofberg in the small blind and he went all in. Yunye Lu looked at his cards in the big blind and announced a call.
Yunye Lu:



Simon Lofberg:


Lu would need to hit one of his two live cards to stay alive and would not do so as the board ran out





, giving Lu the second-nut flush that proved to be the second-best hand to Lofberg's nut flush.
Stacks were counted with Lofberg having 1.525 million, covering Lu by about 200,000 to result in Lu becoming the fifth-place finisher in the tournament.
Level 27 : 40,000-80,000, 80,000 ante
The action folded to Tsugunari Toma in the small blind who raised it up to 200,000. Simon Pedersen called from the big blind and the dealer spread the flop of



. Toma led out for 300,000 and Pedersen made the call.
The turn brought the

and Toma fired out another bet of 725,000. Pedersen used a time extension before he called to see the

on the river. Toma checked this time and Pedersen quickly checked it back. Toma turned over


and Pedersen mucked his cards.