Michael Phelps recently paid a visit to the tournament floor of the $25,000 Super High Roller to wish his friend Antonio Esfandiari good luck. While there, the two engaged in a friendly game of "What Does Johnny Lodden Think?"
For those who don't know how the game works, someone asks an innocuous question and the participants then proceeded to set lines. Eventually one buys the line, a bet is placed, and then they ask Johnny Lodden, or whoever is nearby, for their answer. In this case, it was how much would it cost for the most-decorated Olympian of all time to wear the flamboyant pants (which featured buttons all the way up both legs) of Team PokerStars Pro Bertrand "ElkY" Grospellier, who was sitting to Esfandiari's right.
Esfandiari, Grospellier and Phelps agreed upon a $100 wager and then Esfandiari started things off with $35. No one bit on that line, so Phelps upped it to $5,000. Grospellier took it one step further and said that he thought Lodden would say it'd cost $6,000 to get Phelps to wear the pants. Esfandiari bought at $6,000 and took the under, meaning he'd win $100 from both Phelps and Grospellier if Lodden's guess was under that amount, but owe them each $100 if it wasn't.
They then turned their attention to the next table over where Lodden was seat. "$1,500," Lodden said with a smile.
"Are you serious?" Phelps shouted in surprise. Esfandiari then celebrated as Grospellier immediately forked over a $100 bill. "I've never played 'What Does Johnny Lodden Think?' with Johnny Lodden," Phelps laughed.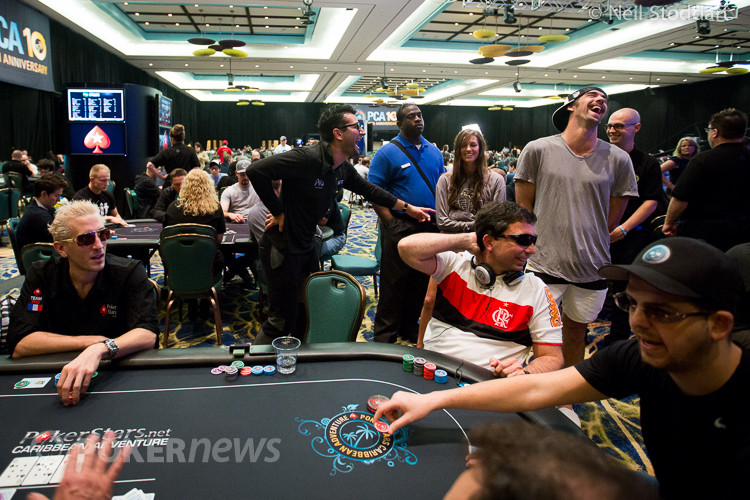 "It's a whole different ballgame," Esfandiari informed him while pocketing ElkY's cash.
"I'd wear them for $5,000," Phelps admitted before leaving the tournament floor.