"I Had One Of Those Two, I Promise"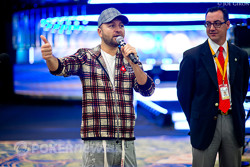 Daniel Negreanu is currently seated at the secondary feature table alongside Erik Cajelais, Cliff Josephy, and 2011 runner-up Chris Oliver, among others. Of those, Negreanu is currently doing the best.
In a recent hand, there was around 10,000 in the pot and a board reading




when Portugal's Fernando Brito bet 5,500 from the small blind. Negreanu made the call from the button, and then he slide out his entire stack of 47,500 when Brito checked the

river. It looked more dramatic than it was (the cameras were there after all) as Brito only had 7,800 behind.
Brito shifted in his chair and attempted to talk out the situation, but in the end he folded his hand.
"I either had the


or the


," Negreanu said. "I had one of those two, I promise."
"I had the

," Brito responded with a smile.
"Then you know what one it is," Negreanu laughed.