Event Info
Level Info
| | |
| --- | --- |
| Level | 32 |
| Blinds | 80,000 / 160,000 |
| Ante | 20,000 |
Main Event
Tag 5 beendet
Courtesy of Neil Stoddart.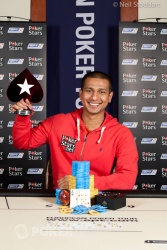 The European Poker Tour's (EPT) inaugural stop in Greece has been a wonderfully exciting experience. The Club Hotel Loutraki has done a fantastic job of looking after everyone, and the tournament has run as smooth as a baby's bum.
We had 336 entrants from 38 different countries, and the winner came from the country that provided only 5% of the players. British pro Zimnan Ziyard played like a titan throughout, and thoroughly deserved not only his victory, but also his biggest ever pay packet since becoming a professional poker player.
The play started quite slowly until Day 1b chip leader Mario Puccini was found playing the short stack. His fold equity fell and Florian Schleps eventually called one of his many shoves. The


of Schleps beating Puccini's


on a very unkind board of





. The next player to lose his seat was the Greek doctor Charalampos Kapernopoulos. Hauke Heseding finding pocket kings and Kapernopoulos was unable to give himself the kiss of life; eliminated in 7th place.
Next we had the biggest pot of the final table up to that point, and it was Hauke Heseding once again wielding the axe. This time it was Andras Kovacs feeling the full force of the Germans might after his ace-king lost a 2.8 million flip against the pocket queens of Heseding. While Heseding was running riot Zimnan Ziyard was quietly waiting in the wings. He made his grand appearance after eliminating Pierre Mothes in 5th place after flopping a flush versus two pair. Not wanting to be upstaged, Heseding moved back into the lead, after removing Florian Schleps in 4th place. Ace-queen finding trips on the flop to beat the pocket sevens of the man from Austria.
The three-way action between Taramas, Heseding and Ziyard was both intriguing and scintillating. Ziyard dominated most of the early action and for a very long time he seemed to be cruising to victory but try as he might he could not finish his opponents off. Eventually Heseding worked out the Ziyard game plan and started to adapt. After eliminating Taramas in 3rd place it was Heseding who took the chip lead moving into the heads up confrontation.
The heads up battle lasted for two hours and it was a seesaw battle. In fact things were that close between the pair of them, when Ziyard won the final hand nobody knew if he had won the title. There was a tense wait before the dealer announced Ziyard as the winner he seemed as surprised as anyone.
Congratulations to Ziyard and commiserations to Heseding. We are off to bed and will be seeing you all in a few weeks time for EPT Prague. Let's hope a certain Mr Ziyard will also be joining us!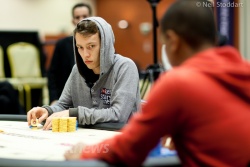 Hauke Heseding opened to 325,000 from the button and Zimnan Ziyard made the call in the big blind to see a flop of



. Ziyard checked and Heseding fired out another 325,000 which Ziyard quickly called.
The turn was the

and Ziyard checked a second time and Heseding barreled a second time, this time to the tune of 575,000 but again Ziyard made the call as the pot swelled over the 2 million mark.
The river was the

and Ziyard this time chose to lead out for 1,075,000. Heseding thought for a minute before he pushed all in for 3,755,000 and stood up out of his chair. The decision was all on Ziyard.
The Brit took several minutes, looking at his opponent declaring, "Top pair top kicker is no good here...I've got the nut card draw."
Ziyard pondered for several minutes before adding, "You've either got the flush or you don't...I call."
Heseding nodded his head and mucked his hand, Ziyard showing


for a backdoor two pair but because it was an all in situation the German was forced to show his bluff -


. Then, the most surprising of all things was that during the countdown it was found that Ziyard covered Heseding by 150,000 chips, less than one big blind. Ziyard had just won EPT Loutraki!
The two players embraced and Heseding maybe disappointed but he put on an amazing display here, coming back from nothing multiple times and making some huge courageous bluffs, hopefully the €221,800 he takes home for second place will provide some comfort.
| | | | | | |
| --- | --- | --- | --- | --- | --- |
| Zimnan Ziyard | | | | 10,100,000 | 5,500,000 |
| Hauke Heseding | | | | Ausgeschieden | |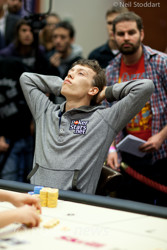 Hauke Heseding just keeps rising from the dead, and at the same time you have to admire the fortitude of Zimnan Ziyard. In the very first hand of the new level Heseding moved all-in for 2.6 million and Ziyard folded. Then a few orbits later he did it again but this time Ziyard found a hand and made the call.
The flop was a good one for Ziyard -



- but he still had six cards to dodge. Dodging cards has not been the Ziyard speciality on this final table, and so his luck continued as the

hit the turn and the river bricked off with the

. That double up brings us back to level pegging once more.
| | | | | | |
| --- | --- | --- | --- | --- | --- |
| Hauke Heseding | | | | 5,400,000 | 2,790,000 |
| Zimnan Ziyard | | | | 4,600,000 | -2,890,000 |
Level:

32
Blinds:

80,000/160,000
Ante:

20,000
| | | | | | |
| --- | --- | --- | --- | --- | --- |
| Zimnan Ziyard | | | | 7,490,000 | 1,590,000 |
| Hauke Heseding | | | | 2,610,000 | -1,500,000 |
We are on a fifteen-minute break.
Zimnan Ziyard opened to 250,000 and Hauke Heseding made the call in the big blind, both players checking the



flop.
Heseding led out for 250,000 on the

turn but Ziyard made a raise to 750,000, the German gave it several minutes thought, but elected to fold.
Both players are fighting fatigue now as well as each other, it's a proper endurance battle at this point.
We have been at this now for over 12-hours and the pace is suffering as a result.

Hand 1
Zimnan Ziyard raised to 250,000 and Hauke Heseding three-bet to 750,000 and the Brit laid down his hand.

Hand 2
Heseding Completed in the small blind and Ziyard checked his option. The flop was



and Ziyard bet 125,000 and Heseding called. We saw the

on the turn and both players checked before the final card of

graced our presence. Ziyard checked to Heseding - who bet 250,000 - before check-raising to 625,000 and Heseding folded.

Hand 3
Ziyard made up the loose change in the small blind and Heseding tapped the felt with his pinky finger. We saw a flop of



and both players checked. The turn brought the

into view and once again both players checked. On the river the

brought the community cards involvement to a close and Heseding check-called a 125,000 Ziyard bet. Ziyard tabled


as the last aggressor and Heseding folded what he said was a worse ace.