Who Will Reach the Final Table of the 2020 Aussie Millions Main Event?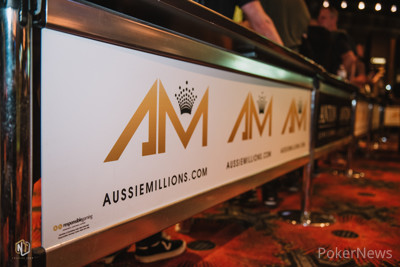 Only one tournament day separates the remaining 37 hopefuls out of 820 entries in the second-biggest Aussie Millions Main Event in history from reaching the final table and scoring a six-figure payday. Thus far, all contenders for one of the most prestigious titles in the poker world have A$31,160 locked up for their efforts, but all eyes are set on the top prize of A$1,850,000.
Leading the field into the penultimate day is Germany's Nino Ullmann, who already came close at winning an ANTON Jewellery Championship ring very early in the series at the Crown Casino complex in Melbourne. Ullmann claimed 1,497,000 to his name and edged past Rishabh Vekaria, who bagged up 1,380,000 in his first international poker tournament outside of Goa, India. High Roller regular Manig Loeser follows in third place with 1,355,000 with Bryce Yockey (1,246,000) and Randy Lew (1,094,000) on his heels.
Mike Del Vecchio may achieve a unique feat as he has bagged up chips for 11 tournament days in a row at the Aussie Millions, and if he was to do so again tonight, he would reach the third final table in a row. Del Vecchio will return to a stack of 1,093,000.
Other well-known names of the international poker circuit also successfully navigated their way to Day 4 such as Erik Seidel, Scott Margereson, Fabian Quoss, Pete Chen and Nick Pupillo.
The action recommences at 12.30 p.m. local time with blinds of 6,000-12,000 and a big blind ante of 12,000. As soon as the first player has been eliminated, the current eight-max format will redraw to six six-max tables and continue so until the final table of the last seven has been reached.
You can follow all the action right here on PokerNews and a live stream with hole cards displayed on a 30-minute delay will be available on the Run It Up Twitch channel as well.
Day 4 Structure (Until Final Table)
| Level | Length | Small Blind | Big Blind | Ante |
| --- | --- | --- | --- | --- |
| 20 | 90 | 6,000 | 12,000 | 12,000 |
| 21 | 90 | 8,000 | 16,000 | 16,000 |
| 22 | 90 | 10,000 | 20,000 | 20,000 |
| 23 | 90 | 12,000 | 24,000 | 24,000 |
| 24 | 90 | 15,000 | 30,000 | 30,000 |
| 25 | 90 | 20,000 | 40,000 | 40,000 |
| 26 | 90 | 25,000 | 50,000 | 50,000 |
2019 Final Table was reached in Level 26
Remaining Payouts
| Place | Payout (in AUD) | Payout (in USD) |
| --- | --- | --- |
| 1 | A$1,850,000 | $1,273,381 |
| 2 | A$1,125,000 | $774,353 |
| 3 | A$661,000 | $454,976 |
| 4 | A$480,160 | $330,501 |
| 5 | A$378,660 | $260,637 |
| 6 | A$307,820 | $211,877 |
| 7 | A$240,080 | $165,250 |
| 8-9 | A$178,080 | $122,575 |
| 10-12 | A$123,000 | $84,663 |
| 13-18 | A$82,000 | $56,442 |
| 19-24 | A$61,500 | $42,331 |
| 25-30 | A$41,000 | $28,221 |
| 31-36 | A$36,080 | $24,834 |
| 37 | $31,160 | $21,448 |
| Total AUD | $8,200,000 | $5,644,175 |