Bryan Devonshire Eliminated in 9th Place ($5,955)
gepostet
2012-06-16 23:32 GMT-6
von
Happy_Freaked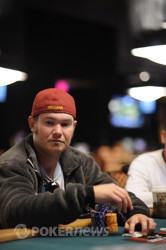 As we were writing up Stuart Rutter's bustout there was also plenty of action going on just a couple of feet away from us.
Apparently Bryan Devonshire had got himself all in against Brandon Cantu who added some more chips to his stack. "It was a smooth hand," Cantu declared afterwards and unfortunately that were all the details we could get. Luckily for all of us Devonshire Tweeted shortly after his bustout.
We are now down to just eight players and there will be a redraw.
Tags: Bryan Devonshire.
Chipcounts
Bryan Devonshire
Ausgeschieden