Robby Rasmussen Eliminated in 4th Place ($78,021)
gepostet
2012-06-16 01:13 GMT-6
von
Chad_Holloway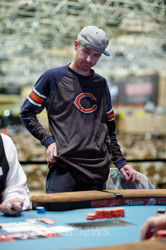 Razz:
In the first hand of Razz, Robby Rasmussen completed and was called by David Chiu. Both players had the same hand on the turn, but that didn't stop Rasmussen from betting and Chiu from calling. The same action occurred on fifth street, and then Chiu bet his last 105,000 when he took the lead on sixth. Coincidentally, Rasmussen had the exact same amount and committed it to the pot.
Chiu:


/



/ (x)
Rasmussen:


/



/ (x)
"You probably have me," Rasmussen admitted before the cards were turned up. Sure enough, Chiu had a made eight-low and had his opponent drawing dead. Rasmussen, who began the final table as chip leader, finished in fourth place and leaves with a $78,021 consolation prize.
Tags: David Chiu, Robby Rasmussen.
Chipcounts
Stephen Chidwick
1,810,000
85,000
Ylon Schwartz
1,500,000
David Chiu
690,000
295,000
Robby Rasmussen
Ausgeschieden