Katchalov Coolered, Eberle Doubles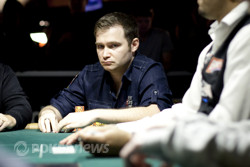 Eugene Katcalov raised it up from the cutoff, and was re-raised by Dale Eberele in the big blind. Katchalov re-raised again and Eberle made the call.
The flop came down



Eberle checked, Katchalov bet, Eberle re-raised, and Katchalov called. The turn came

Eberle bet, Katchalov raised, and Eberle called all in. Eberle showed


for top two pair, and Katchalov showed his superior preflop hand,


The river was the

and Katchalov shook his head as all of his chips were pushed to Eberle and he doubled up. Katchalov only has 250,000 after the hand and Eberle doubled to 700,000.
Katchalov was in a similar situation going into heads-up play of Day 1, so he is used to the short stack and isn't out of it yet.
Tags: Dale Eberle, Eugene Katchalov.
Chipcounts
Dale Eberle
700,000
350,000
Eugene Katchalov
250,000
-375,000