Nick Schulman Eliminated in 5th Place ($69,216)
gepostet
2011-06-12 02:39 GMT
von
EricRamsey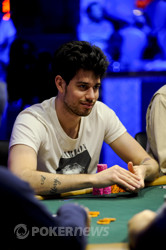 Phil Hellmuth is on an absolute tear through this event.
Nick Schulman opened the last pot to 50,000, and Phil Hellmuth three-bet to 340,000. That had Schulman covered, and he didn't waste any time calling all in for 250,000 total. Hellmuth patted, turning up the hand to beat:




. Schulman needed one card to improve his



. He squeezed it out, and it was no good. He sent the

spiraling onto the felt face-up, and a pair is not going to get it done.
With that, the 2009 champion of this event is eliminated in fifth place. He'll take home nearly $70,000, pausing to wish the table luck as he headed off to the cashier.
Hellmuth is up to about 2.4 million now with just about 2/3rds of the chips in play.
Tags: Nick Schulman, Phil Hellmuth.