Makowsky, Kelly Both Double Through Decker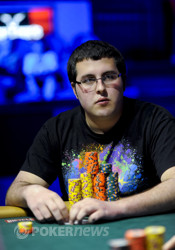 There were double-ups in back to back hands with six to go here in the $1,500 No-Limit Hold'em Shootout.
In the first hand, Dan Kelly raised to 40,000 under-the gun, Daniel Makowsky re-raised to 120,000 and Andrew Badecker re-raised to 1,000,000 putting both Kelly and Makowsky all in. Kelly folded, but Makowsky eventually made the call.
Makowsky flipped over


to the


of Badecker. The board ran





Makowsky doubled up to 1,838,000 and Badecker fell back to about 1,600,000.
The very next hand, Badecker raised to 50,000 on the button and Dan Kelly re-raised to 112,000 from the small blind with Badecker making the call.
The flop came



Kelly bet 136,000 and Badecker called.
The turn was the

and Kelly open-shoved all in for around 545,000 with a call from Badecker.
Kelly had


for top pair and Badecker had

for second pair and a flush draw. The river was the

, a brick for Badecker, and Kelly moved up to 1,376,000. Badecker, who was up around 2,500,000 only two hands before, fell to 807,000
Tags: Andrew Badecker, Dan Kelly, Daniel Makowsky.